Cervical cancer kills more than 2,000 women annually in Ghana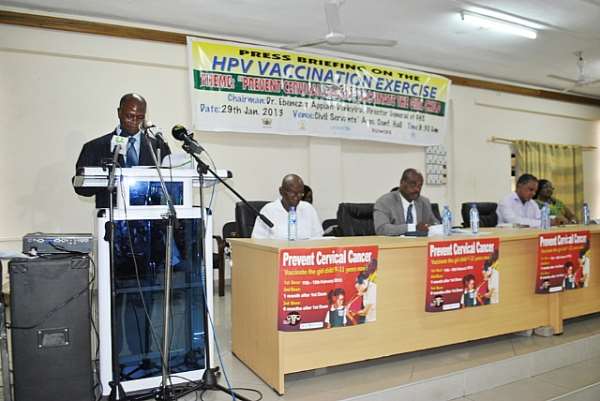 Cer c
Accra, Jan. 29, GNA - A research conducted by the Ghana Health Service (GHS) had shown that 3,038 women are annually diagnosed of cervical cancer, and 2,006 women die from the disease every year.
Globally, 500,000 new cases are diagnosed annually, and 270,000 deaths, accounting for nine per cent of female cancer, are also recorded annually.
Dr Nana K.O. Antwi-Agyei, Programme Manager, Expanded Programme on Immunization (EPI) of the GHS, who announced these on Tuesday at a press conference to introduce Human Papillovirus (HPV) Vaccination Exercise, said cervical cancer, was a leading cause of deaths in Ghana.
He said the Ministry of Health had secured 64,000 doses of the HPV vaccine through the sponsorship of Axios Healthcare Dev Inc of Cleaveland, USA, and Rural Women's Initiative for Development and Empowerment (RUWIDE), a local non-governmental (NGO) based in the North.
The vaccine, which cost 83 million dollars, was financed by Axioms Healthcare, and RUWIDE was a consignee of the vaccine.
Dr Antwi-Agyei said the vaccine would be piloted in 13 districts in the Northern and the Central regions for young girls in Primary Four and Primary Five, to protect them from contracting the disease.
He said the first dose would start from February 11 to February 15, 2013, and targeted young girls because it is believed that they were not yet expose to sexual intercourse.
Dr Antwi-Agyei said the second dose would be administered from March 18 to March 22, 2013, while the third dose would begin from September 23 to September 27, 2013.
He said so far the 32,000 doses were available to take care of 1,221 schools in the targeted regions, and called on parents and teachers in the selected regions to ensure that every girl within the bracket group is vaccinated.
Districts to benefit from the pilot vaccination exercise are Awutu Senya; Awutu Senya East; Cape Coast; Effutu; Ekumfi; Mfantseman, and Agona West Districts of the Central Regions.
East Gonja; Kumbungu; Mion; Savelugu Nanto; Tolon, and Yendi were the Districts to benefit from the Northern Region.
Dr Antwi-Agyei announced that findings from pilot exercise would be used to develop a programme for the entire country.
Dr Ebenezer Appiah Denkyira, Director General, GHS, said the HPV (Gardasil) vaccine was safe, effective and had been approved by the World Health Organization and the Government of Ghana.
He said the vaccine was tested in many countries and the results showed that it works and it is most effective if all three doses are completed on schedule.  
GNA