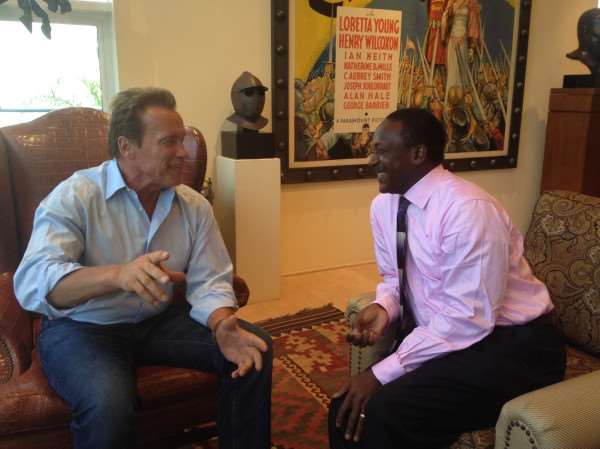 UNIDO Director General, Kandeh K. Yumkella is among high-profile leaders to serve as Board of Advisors of a new think tank at the University of Southern California (USC).
The Schwarzenegger Institute of State and Global Policy; the result of a partnership between the USC and Governor Schwarzenegger would offer bipartisan solutions to problems associated with the environment, economy, energy, political reform among others.
Named after former Governor Arnold Schwarzenegger, the new institute will be located in the Sol Price School of Public Policy and will be funded with a commitment of $20 million both from Gov. Schwarzenegger and through fundraising efforts that he will direct.
Schwarzenegger will chair the think tank's Board of Advisors and will also hold an appointment as the Gov. Downey Professor of State and Global Policy. The late Gov. Downey was the first immigrant governor of California.
"This is something that I am very passionate about, and I'll be involved in bringing talent from around the world to USC to do lectures and seminars," said Schwarzenegger. "My strength is that I'm very well known internationally and can take the message to other universities overseas and in this country," he continued.
Speaking about his new appointment at the University of Southern California, Dr. Yumkella noted that "It will be a pleasure to work with Gov. Schwarzenegger. He has been an enthusiastic supporter of the Sustainable Energy for All initiative (SE4All) that I co-chair. In fact, he was the keynote speaker when the High-level group was formed in NY. He also delivered the keynote address at the Vienna Energy Forum; a summit that UNIDO organized in 2011 to underscore the importance of universal energy access."
Other members of the inaugural board of advisors include Henry Cisneros, former san Antonio mayor and president Clinton's secretary of Housing and Urban Development; Vincente Fox, former president of Mexico; George P. Schultz, former US secretary of State under the late President Ronald Reagan and Rajendra Kumar Pachauri, chairman of the Intergovernmental Panel on Climate Change.

GOV. SCHWARZENEGGER AND YUMKELLA IN CALIFORNIA RECENTLY

UNIDO DG KANDEH YUMKELLA AND FORMER GOV. ARNOLD SCHWARZENEGGER AT THE LAUNCH OF THE SUSTAINABLE ENERGY FOR ALL IN NEW YORK - PHOTO BY M. EVSTAFYEV UNIDO