Agrochemical dealers schooled on fertilizer subsidy program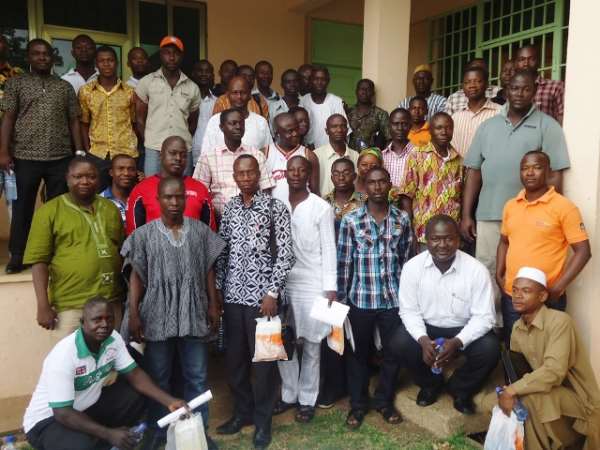 Agro dealers attending training
Farmers across the country are beginning to access subsidized fertilizer products to grow their crops.
Government, earlier this month, announced the 2012 National Fertilizer Subsidy program for the current crop season, reducing the cost of fertilizer by an average of 43 percent.
Farmers in parts of the country had been worried at the delay in taking delivery of subsidized fertilizer.
They expressed fears the late accessibility to NPK fertilizer could negatively affect their food production, most especially when most of them had started planting without applying the requisite fertilizer.
Agricultural extension agents are now registering the farmers and giving them the passbooks to access the fertilizers.
Some agrochemical retailers in local communities who spoke to Luv Biz Report said they have been assured of adequate supplies by their distributors.
"Fortunately for us some of the distributors sent us messages that they have fertilizer available so a couple of the retailers have taken delivery of fertilizers and therefore fertilizers are available now", said Cecelia Keja-Agyemang, a retailer of agrochemicals.
Some retailers however raised concerns with the high cost and perennial delays in the release of the subsidy, which they say impedes local farmers from reaping the full benefit of the subsidy program.
Meanwhile, about 175 retailers from the Ashanti, Bono Ahafo, Western and Northern regions have been attending a training workshop in Kumasi on modalities for the smooth implementation of the 2012 National Fertilizer Subsidy program.
It was organized by Enepa Agro-Chemical Limited in collaboration with Yara Ghana, a leading producer and distributor of mineral fertilizer.
Managing Director of Enepa Agro-Chemical, Ernest Appiah said the training is to enable the retailers efficiently support farmers in fulfilling documentation processes under the subsidy program.
"The government wants to make sure that the farmers are getting the fertilizers, that's the most important thing; then they'll get all the information about the farmers – their acreages, areas and everything – you have to prove something to indicate that the fertilizer that the World Bank subsidized goes to the ordinary Ghanaian farmer", he told Luv Biz Report.
Story by Kofi Adu Domfeh/Luv Fm/Ghana