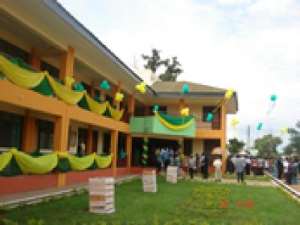 Accra, June 19, GNA- Kintampo College of Health will from September 2013 start a two-year pre-service degree course in Emergency Medicine (EM) for Physician Assistants (PA).
This will enable the PAs to serve as emergency and acute care specialists at district hospitals and clinics throughout the country.
The training, which will be done in collaboration with the Department of Emergency Medicine of the George Washington University and the University of Columbia, is currently developing a curriculum led by Kintampo College of Health.
Training sites have been selected to include all regional hospitals, some district hospitals and some centres of excellence.
Training will cover communicable and non communicable medical emergencies, surgical and traumatic emergencies, Pediatric and neonatal emergencies as well as obstetrics and gynecology emergencies.
Speaking at a courtesy call on the Deputy Minister of Health, Mr Robert Mettle-Nunoo, Dr Emanuel Teye Adjase, Director of the Kintampo College of Health said the team has been in the country since 2009 developing the model for the training, which would integrate pre-service and in service models.
He said since 2009 more than 50 PAs in Brong Ahafo, Ashanti, and Northern, Upper East and Upper West regions have been trained "Senior Trainers" who would in turn serve as facilitators for their colleagues, creating a cascading effect for learning.
Dr Adjase explained that road traffic accidents were increasing becoming the leading cause of mortality and morbidity in the country whilst Ghana has also seen a steady increase in deaths caused by road traffic accidents
Advertisement
He noted that EM would help reduce road traffic accidents and as well help meet Goals 4, 5 and 6 of the Millennium Development Goals.
EM is a specialty concerned with the stabilisation, management, diagnosis, and disposition of individuals with acute illness and injury. It involves the technical and cognitive aspects of virtually all fields of medicine and surgery including the surgical sub-specialists.
Dr Adjase called on government to ensure the strengthening of the centres and sites selected for the training with needed resources for the sustainability of the exercise.
Dr Rachel T Moresky, Director, International Emergency Medicine of the University of Columbia explained that the System Improvement at the District Hospitals and Regional Training pf Emergency Care programme was to partner with local institutions, generate tools and implement best practices to improve care for critically ill patients in the rural hospital setting.
"We support educational and health system processes at the district and regional level, which lead to reductions in morbidity and mortality for the undifferentiated acutely ill patients," she added.
Mr Mettle-Nunnoo called for the expansion of the training programme to cover the national ambulance service attendants and technicians as well as the University of Ghana Medical Training School.
GNA