Chiropratic Center Gets New Machine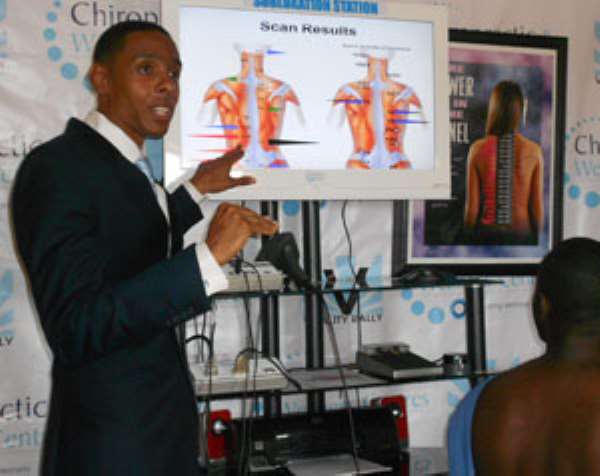 Dr. Marcus A. Manns explaining how the machine works
THE CHIROPRACTIC and Wellness Center (WCW) has launched an Insight Discovery Subluxation Station (IDSS) which evaluates the human nervous system to establish the root cause of diseases.
The machine is scientifically sound, painless, non-invasive and has no negative side effect on humans.
Speaking at the launch of the machine, Dr. Marcus A Manns, founder and CEO of the company said the IDSS produces a full colour report after it has finished evaluating the nervous system.
He said the report will enable patients to see clearly what could be the causes of their existing conditions and more importantly that of their future conditions as well.
Mr. Manns said 'with that, our team of expert doctors will chart a path and a plan to help you correct these underlying problems' adding 'this will allow you the confidence and peace of mind that you are leading your family to a healthier future.'
He said there is a pandemic of preventable chronic conditions and diseases plaguing our society and urged families to begin looking for new ways to address these often silent but deadly diseases.
Dr. Manns said 'We should not wait for sicknesses and diseases to show up in our lives because far too often, by the time it shows up, it has already overtaken the body.'
He said WCW nationwide is fully committed to making sure it offers the very best care, facilities, leadership, direction and technology.
'In an effort to help people get their health and that of their families on the right track, for limited time we have decided to subsidize the cost of doing a checkup to make it affordable for all,' he said.
By Cephas Larbi