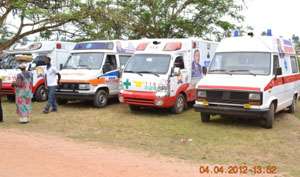 Member of Parliament for Upper Denkyira West, Benjamin Ayeh, has counselled his constituents to take their health seriously by seeking regular medical checkups and also taking their medical prescriptions very seriously.
He said that was the only antidote to having the upper hand over medical complications, which were fast claiming many lives. Corroborating his claim, he said these days, people died suddenly without showing any signs of ill health, adding that it was only through regular checkups that such diseases could be detected early enough for appropriate medications to be applied.
He said this when he donated four multi-purpose ambulances to four communities in his constituency. He also told them to exercise regularly to keep fit.
He said, 'It is important that you do regular exercise to build the immune system and make it more capable of fighting the diseases in your system'. The MP has also asked them to take particular interest in what they ate.
The ambulances, which will be deposited at the various health posts of the beneficiary communities, will also perform multiple functions such as periodic mobile clinics to the communities and their surroundings.
Hon Ben Ayeh said the idea was to make health service delivery very accessible to his constituents.
Special communication gadgets have been provided in all the ambulances to enable people to call during emergency situations. The benefitting communities include Diaso, Ntom, Subin and Dominase, all in the Upper West Denkyira West constituency.
The ambulances, which cost GH¢140,000, were bought with the MP's share of the NHIS fund which is available to members of parliament.
Hon. Ben Aryeh noted that he decided to invest the money into in ambulances to enable the communities have easy access to health service delivery during emergency situations and to also curtail casualties during emergencies.
He has promised to pay the salaries of drivers who will be employed to drive the vehicles and also intends to pay for the regular maintenance fee of the vehicles.