Construction Of Lion's Int'l Eye Clinic Begins®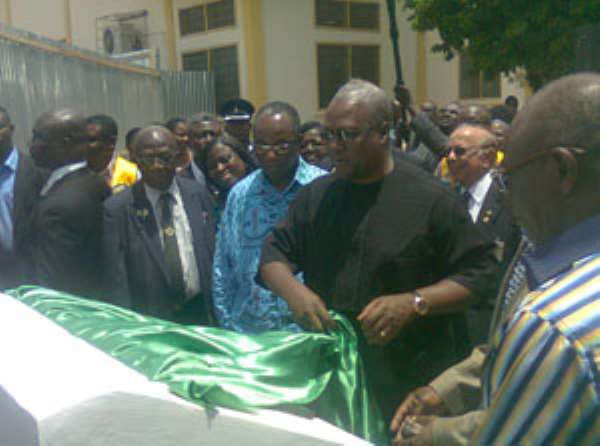 John Mahama unveiling the plaque for the new eye center with Prof. Nii Otu Nartey and other dignitaries supporting him
VICE PRESIDENT John Mahama has laid a foundation block for the construction of Lion's International Eye Center at Korle-Bu Teaching Hospital.
The project which is being financed by Moorfields Eye Center UK, Lion's Club International and the Government of Ghana is valued at £3million.
The facility is expected to provide world class eye care not only for Ghanaians but also for the 250 million people in the West African sub-region.
The Vice President said 'the health facility will provide facilities for specialist ophthalmic training. In addition, important research facilities into disorders will be available.'
Mr. Mahama said government will continue to invest in critical facilities at Korle-Bu Teaching Hospital as the premier referral center in the country.
That he said is why government has provided new lifts to be installed there at a cost of GH¢2.4million.
However he said 'we still need more money to reach the $500,000 goal set by Ghana as its contribution to funding of this life-saving center.'
Mr. Mahama charged the consultants and contractors working on the project not to compromise on the quality of work.
Chief Executive of the hospital, Prof. Nii Otu Nartey said construction of the eye clinic makes the future of tertiary and even quaternary eye care in the country assured.
Prof. Nartey said government is funding construction of a new imaging center to be equipped with top of the range MRI, CT scan and other diagnostic equipment. Construction work has already begun.
 
'This funding assistance is continuing and as part of rehabilitation of the hospital, the laundry, the central kitchen, some wards and 13 of the 23 theaters are being rehabilitated and re-equipped, he said.
He assured that all these changes will be completed by the end of the year.
 
Prof. Nartey said 'this will be crowned with government's approval of a $60million loan from a consortium of Arab countries to build the first phase of an emergency hospital complex that will be fit the status of Korle-Bu Teaching Hospital.'
He said Korle-Bu will launch its 90 th anniversary celebration in October.
 By Cephas Larbi