'Go home and register' - Boniface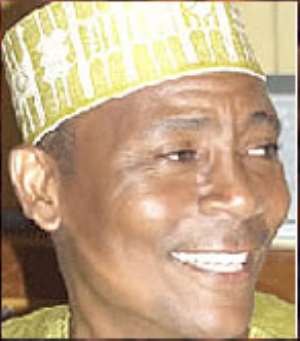 Ashaiman, March 15, GNA – Alhaji Abubakar Siddique Boniface, a leading member of the New Patriotic Party (NPP), has urged members and supporters of the party resident outside their home towns, to take advantage of the biometric registration exercise to go back home and register.
Addressing NPP Gonja Youth from Kintampo who are resident at Ashaiman, Alhaji Boniface reminded them that the exercise was very important, because first and foremost, government would use it as a yardstick in executing development projects in various communities throughout the country.
He said apart from that, it would also enable registered members of the NPP to vote in the December polls and return the party to power to continue with its good works.
Alhaji Boniface, a former Minister in the Kufuor Administration, therefore, urged the Youth in the party to show commitment, and travel in their numbers to their various hometowns to register.
Alhaji Boniface advised the Gonja community in the Accra-Tema Metropolis to be law-abiding, and to serve as role models for others to emulate.
Mr. Razak Awudulai, former Municipal Chief Executive for Kintampo, and current NPP Parliamentary Candidate for Kintampo North, pointed out that Politics should not be acrimonious, but should rather bring improvement in the lives of the electorate.
Mr. Awudulai, therefore, urged fellow politicians to stick to issues in their campaigns, so that the electorate could elect people of their choice to champion their aspirations.
Mr. Abu Jinapor, a member of the Communication Team of the NPP Presidential Candidate, urged members of the party to unite to ensure a resounding victory come December.
Mr. Seji Saji Amedonu, NPP Parliamentary Candidate for Ashaiman, asked members in the constituency to intensify their campaign to win more floating voters onto the side of the party, in order to wrest the seat from the NDC.
GNA