Ministry of Health working to control CSM in UER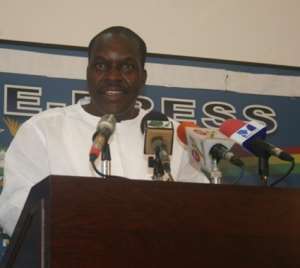 Bolgatanga (UER). March 12, GNA – Mr Alban Bagbin, Minister of Health, has assured the people of the Upper East Region that the Ministry was working hard to control the recent outbreak of Cerebro-Spinal Meningitis (CSM) in the area .
He said this when he toured districts in the region with a team to ascertain the level of the outbreak of CSM and how to prevent its spread.
Mr Bagbin said the Ministry had sent a team of health experts who were abreast with the situation of the disease in the Region to map out strategies to tackle the problem.
He explained that vaccines for CSM that were expensive were not manufactured in Ghana and it was only the World Health Organization (WHO) that could approve funding for their procurement.
The Minister said when the disease broke out, Government made requisition for 267,000 doses of vaccines but the WHO only approved of 105,720 vaccines.
"Our efforts to get them increase the doses did not yield any further results but they said what they had in their possession is very limited and it is not meant only for Ghana but the whole world so that is what they could give us", he said.
Mr Bagbin said 40,000 doses of the vaccines had already been dispatched and 6,720 were expected to arrive in the region and would be made available to the endemic areas including the Kassena-East, Kassena-West and Builsa Districts.
He said that due to good health practices in Ghana, the WHO had asked the country to produce four medicines, including CSM vaccine.
Mr Bagbin stressed that Ghana had the technological ability and facilities to produce those medicines and the country would soon launch the manufacturing of the vaccine and other medicines.
He indicated that plans were far advanced to establish a Bio-equivalent Centre of excellence to give quality health care.
The Minister said that the Bolgatanga Regional Hospital would be upgraded to ultra-modern status while each of the district health centres in the Region would be upgraded to District Health hospitals, starting with Paga and Garu-Tempane.
Mr Bagbin said the Ministry had planned to procure 161 ambulances this year for distribution to deprived health facilities in each district across the country.
He stated that Government had placed order for consignment of equipment worth 267 million dollars for distribution to all health facilities in the country.
GNA