December 12, 2011
|
Election News
CHIEFS ENDORSE HON.FIFI KWETEY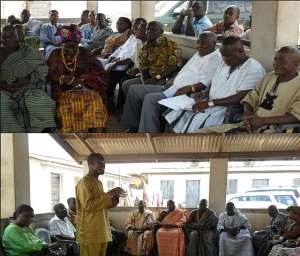 After declaring his intension to contest the Ketu South Parliamentary seat, Hon. Fifi Kwetey paid courtesy calls on chiefs and some traditional leader of the constituency.
In his meeting with the chiefs of Aflao traditional area, the Deputy Minister of Finance outlined the on-going and completed development projects undertaken by the NDC government.
A leading member of the New Patriotic Party, Mr. Obed Okudzeto described Hon. Fifi Kwetey as a paragon of change and that he deserves to be the next MP for the constituency. The paramount chief of Aflao traditional area, Torgbui Adzongaga Amenya Fiti V advised the chiefs to remain resolute and partner with anyone who is development oriented.
The Fiaga of Klikor, Torgbui Addo in another meeting, advised all his sub chiefs to do their best and canvass support for Hon. Fifi Kwetey. He also asked the Deputy Minister of Finance to extend to the president the acute water shortage in the area for urgent attention. Hon .Fifi Kwetey assured the chiefs of Klikor his commitment and dedication to help transform Ketu South. The District Chief Executive, Mr. Bernard Amable stressed the need for all and sundry to support Hon. Fifi Kwetey since he can augment tremendous change and development in the constituency.
The chiefs of Somey also added their voice asking all delegates to rally behind Hon. Fifi Kwetey. They also alerted all that Hon. Fifi Kwetey is one who can raise the constituency from the development slumber the constituency is grappling with. Torgbui Sewor who spoke on behalf of the Makorsor of Somey,Torgbui Hor stated the problems facing the chiefs of the traditional area. Hon. Fifi Kwetey noted the problems with great concern and promised them of appropriate attention.
The Queen mother of Adafienu, Mama Ayaba II, on behalf of all chiefs gave Hon. Fifi Kwetey their blessings, protection and well wishes.