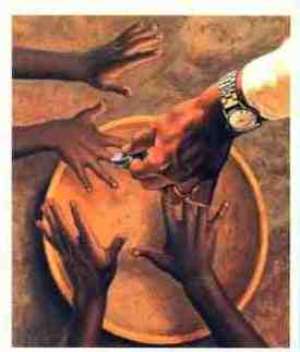 Beggars on Strike (Rejection of Alms)
A non-fictional version of the fictitious strike story told in Aminata Sow Fall's The Beggars Strike, is about to be staged. But unlike Sow Fall's political satire, the characters in the factual version set to be dramatized are African nations (the beggars), led by Ghana and assisted by Uganda and Malawi; and Western nations (the donors), championed by Briton (i.e. England, Wales, Scotland and Northern Ireland).
For the benefit of those who are not familiar with the Senegalese, Aminata Sow Fall's masterpiece and its subject matter let me provide a very brief synopsis.
The story is set in a Muslim dominated African community where people, particularly powerful and affluent figures are required by their religion and their 'marabouts' (holy men) to give alms or gifts to beggars and poor people. An unnamed capital city is flooded with filthy beggars who are called unfortunate names such as 'dregs of society', 'conglomeration of humanity', 'a running sore that must be kept hidden', etc. The sight of these disease-ridden beggars in the streets of this unnamed city is giving it a bad image and driving away tourists. But if Mour Ndiaye, the Director of Public Health and Hygiene can get rid of them, he will have a massive chance of being appointed as the Vice President of the nation.
Ndiaye together with his competent assistant, Keba Dabo (who ironically was raised in extreme poverty), zealously rids the city's streets of these verminous scroungers through constant intimidation, beatings and repeated imprisonment. This move is obviously motivated by Ndiaye's ambition to become Vice President of the nation.
To make sure that he gets the post in question, Ndiaye consults a marabout (a holy man or a spiritual adviser) who tells him that his chances of becoming Vice President will be enhanced only if he gives certain gifts to real beggars in their customary locations. But all the beggars have vacated the streets following the persecution. If Ndiaye's dream of becoming Vice President is to come to fruition, he needs to persuade the beggars to return to their various posts in the city to be offered alms; his fate lies in their hands. But now the beggars are organized and have formed a unified community outside the city vowing never to return to the streets for alms. At this point, the "pious" city civil servants and businessmen whose success is dependent on regular charitable gestures to beggars and the poor are beginning to panic. The beggars' strike is yielding the required results as the so-called alms givers or donors now need the beggars more than the beggars need them. What a paradox!
People must give alms to the poor to attain spiritual favour and earthly rewards, so if Mohammed will not go to the mountain, the mountain must come to Mohammed. When all attempts to persuade the beggars to return to the streets fail, Ndiaye is compelled to carry his assorted gifts to the strikers' new location begging them to accept the donations. But this is not exactly what the marabout's instruction is – beggars to benefit from Ndiaye's gifts have to be real street beggars and not a well-organized community. Finally the appointment of a Vice President is announced and he is not Mour Ndiaye. The beggars are having the last laugh – victory is theirs.
Reading this interesting novella for my 1996 GCE, 'A' level Literature in English at St Hubert's Seminary and Secondary School, I saw no likelihood of such an amusing story – beggars on strike, happening in real life. My position was obviously influenced by the popular adage: 'a beggar has no choice' – which I had parochially interpreted as beggars not having the right to choose what they want but accepting whatever donations given to them even if there are difficult strings attached. However, after reading and reflecting on the entire content of the book, I came to the full realization that beggars indeed have choices, only that their options are not many – probably just two: deciding to continue begging and being scorned and treated like idiots all the time, or opting out of begging and enjoying immense respect and dignity.
Unfortunately, for over five decades African nations have willingly gotten themselves entangled in the dirty and shameful web of the former (begging). But it appears things are about to change; African political elites are perhaps becoming a bit more enlightened, and they may sooner rather than later opt for the latter option (refusing to beg); the signs are visible almost everywhere. What somehow worries me is the fact that it is taking the antics and arrogance of a small boy to make the men with greying hair, Hitler-like moustaches, Moses-like beards and big academic titles to come to their senses and brainstorm.
It all began when the 45-year-old British Prime Minister, Mr David Cameron vowed to cut or withdraw aid to African countries which fail to respect and protect gay rights or legalize homosexual relationships, making special mention of Ghana and a few other African countries. His remark was reported by a considerable section of both the UK and African media on the 10th and 11th of October 2011. Boiling with rage, I swiftly provided a response to Mr Cameron's ill-informed and arrogant statement.
In my article 'David Cameron Commits the Fallacy of Argumentum ad Baculum', published on Modernghana.com and Ghanaweb.com on October 11 and 12 respectively, I rebuked Mr Cameron and western leaders for hiding behind a façade of human rights promotion to impose their norms, decisions and will on the usual victims – Africans and less developed countries. It was made clear that Africans are not going to be told how to run our countries and how to live our lives by foreigners. I concluded that Mr Cameron would in fact be doing Africans, particularly Ghanaians a huge favour if the so-called aid to Ghana is diametrically withdrawn as that will make our greedy and selfish leaders less powerful and oppressive, and make Ghanaians more hardworking and imaginative, for necessity is the mother of invention.
A couple of weeks later, the Second Deputy Speaker and NPP Member of Parliament for Dome-Kwabenya, Professor Mike Ocquaye; Ghana's Trade and Industry Minister, Ms Hannah Tetteh; and Ghana's presidential spokesman Mr Koku Anyidoho, also joined in the debate, expressing anger at what they perceived to be the British government's attempts to manage the affairs of the Ghanaian and African people.
Prof. Ocquaye, pronounced that Ghana can survive without depending on aid from Britain, charging the government not to succumb to UK's threats. Ms Hannah Tetteh emphasized that every society has its norms and what it considers to be acceptable; and gay relationships are not part of the Ghanaian and African norms. Mr Koku Anyidoho emphatically stated that government would not compromise its morals for money; and questioned the wisdom in accepting aid if that aid is going to be tied to things that will destroy the moral fibre of society.
Responding to Mr Cameron's comment a couple of days ago, Ghana's President John Atta Mills categorically proclaimed that the UK cannot impose its values on Ghana and that he would never initiate or support any attempt to legalize homosexuality. He stressed that Mr Cameron is entitled to his views, but he does not have the right to 'direct to other sovereign nations as to what they should do'. His position has received the backing of the nation's law makers and religious leaders.
Ghana's response to Mr Cameron's threat is not different from that of Uganda. The Ugandan presidential adviser John Nagenda is quoted as saying that Mr Cameron is showing a 'bullying mentality' and that Ugandans would not tolerate being treated like 'children'. The following words of Mr Nagenda are noteworthy: 'Uganda is, if you remember, a sovereign state and we are tired of being given these lectures by people. If they must take their money, so be it.'
Malawi has also made her voice heard. The spokesperson of the Malawian Government, Patricia Kaliati describes Britain's decision to have 'pro-gay strings' to aid as 'unfortunate', adding that homosexuality which is part of the legacy of British rule is and will continue to be illegal in Malawi. Defending Malawi laws that criminalize same-sex unions, President Bingu wa Mutharika described gays as worse than dogs. He stated that even though his country needs aid, it would not welcome donations from countries that command them to legalize same sex marriages as the practice is not only a threat to the family unit but contradicts Malawi's rich culture.
It is evident that like the beggars in 'The Beggars Strike', all the above-mentioned nations and many others are resolved never to go chasing hand-outs or alms at the expense of their rich norms or values and dignity. They are set to commence a strike that could aptly be dubbed 'The African Beggars' Strike'. There is no doubt at all that Africa shall be loved when she is lack'd (rewording a line in Shakespeare's Coriolanus). In other words, the indispensability, supreme beauty, and real value of Africans will be realized and missed by the West when she is no more going to them for 'LALASULALA' (alms).
However, that which is still shrouded is whether or not the African nations will have the last laugh when the strike begins. Remember, the golden rule governing such strikes is simple but tough: IF YOU CAN'T PERSEVERE, DON'T START IT – IT SHOULD CONTINUE AD INFINITUM (without end). So wait, don't jubilate or heave a sigh of relief yet, as our African politicians are highly unpredictable partly due to their fickle-mindedness, greed and cash-conscious nature. Never be surprised if they make a U-turn, and the strike doesn't take place, or it begins and comes to unceremonious and fruitless end.
Emmanuel Sarpong Owusu-Ansah (Black Power) is an Investigative Journalist and the author of Fourth Phase of Enslavement (2011). He may be contacted via email ([email protected]).