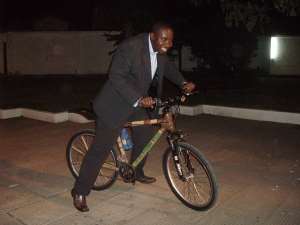 The bamboo bikes factory in Kumasi is hoping to scale up production by 250 percent at the end of year.
The Bamboo Bikes Limited began production of 750 bikes for a test run in Kumasi early this year to serve the transportation needs of healthcare workers, teachers, students and farmers in rural Ghana.
The company was established as the first large-scale bamboo bicycle production company in Africa, with a target to produce up to 20,000 affordable bikes a year. The factory currently employs 20 people.
It is an offshoot of investment-related projects under the Millennium Cities Initiative (MCI) at the Earth Institute at Columbia University.
Addressing a stakeholder forum in Kumasi, Director of MCI, New York, Susan Blaustein, said the Kumasi Metropolitan Assembly and the Ghana Investment Promotions Centre "are planning other investment activities to bring in not only domestic and regional but also international investors into some of the sectors here – tourism, or course agro-processing – to strengthen the linkages at the countryside".
The MCI programme is designed to analyze the general regulatory climate for investment, advice foreign collaborators on ways to strengthen the city's capacity for investment promotion and foster a continuous public-private sector dialogue.
Kumasi is the first Millennium City in Ghana. The KMA has committed US$100,000.00 towards the promotion of the investment initiative.
City Mayor, Samuel Sarpong, is hopeful "this project will go a long way to help us unleash and realize our full business potential for the development of our city and mother Ghana as a whole".
The Kumasi initiative has an objective of promoting a viable economy through promotion of domestic and foreign investment to create employment opportunities.
Ashanti regional minister, Dr. Kwaku Agyemang-Mensah says government will count on the support of the private sector to promote projects under the MCI.
Story by Kofi Adu Domfeh/Luv Fm/Ghana