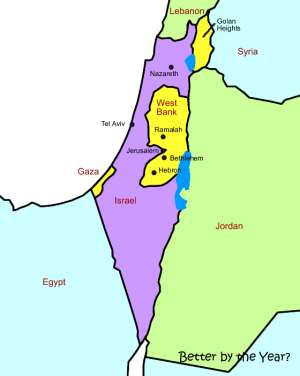 As debate continues over whether the Palestinians should ask for a UN resolution recognising Palestine as an independent state, a new global poll for BBC World Service reveals that, in all 19 countries surveyed, more citizens would prefer to see their government vote to support the resolution than vote against it – although only by a modest margin in many countries.
The poll of 20,446 citizens conducted by GlobeScan shows that, while the public is five to two in favour, with three undecided, in only nine countries is there an outright majority of citizens in support of recognizing Palestine as a state.
Across the countries surveyed 49 per cent back the resolution, while 21 per cent say their government should oppose it, and a large proportion (30%) either say that it depends, that their government should abstain, or that they do not know what their government should do.
Support for recognition is strongest in Egypt, where 90 per cent are in favour and only nine per cent opposed. But there is also majority support in the other three predominantly Muslim countries polled – Turkey (60% support, 19% oppose), Pakistan (52% support, 12% oppose) and Indonesia (51% support,16% oppose). Chinese people are the second most likely overall to favour their government voting for recognition of a Palestinian state, with 56 per cent in support, and just nine per cent opposed.
In terms of countries with a higher level of opposition, Americans (45% support, 36% oppose) and Indians (32% support, 25% opposed, with many undecided) are the most likely to prefer that their government vote against recognizing Palestine, along with Filipinos (56% support vs 36% oppose) and Brazilians (41% support vs 26% oppose).
The results are drawn from a survey of 20,466 adult citizens across 19 countries. It was conducted for BBC World Service by the international polling firm GlobeScan. GlobeScan coordinated fieldwork between July 3, 2011 and August 29, 2011. Within-country results are considered accurate within +/- 2.1 to 3.5 per cent 19 times out of 20.
GlobeScan Chairman Doug Miller commented: "If countries' citizens had a vote at the UN, the poll suggests that Palestine would receive official UN recognition. However, with many people undecided or opposed, domestic repercussions are unlikely if their governments choose to vote against recognition."
Participating Countries
Detailed Findings
Public opinion in the three EU Member States included in the poll is strikingly similar on this issue: France (54% support vs 20% oppose), Germany (53% vs 28%) and the UK (53% vs 26%).
Russian public opinion is at variance with this picture, however, with over half not giving a definite answer and believing that 'it depends', that their country should abstain, or simply not being able to offer a view. Those favouring a 'for' vote outweigh their counterparts 'against' by a ratio of just under three to one (37% vs 13%), with the remainder undecided.
In Latin America, opinion is also equivocal, with much of the public undecided - particularly in Chile, with 52% in neither the 'for' nor 'against' camps. Nonetheless, the balance of opinion is still towards a vote for recognition rather than against. The percentage favouring a 'for' vote is highest in Mexico (45% vs 15%), followed by Brazil (41% vs 26%), Chile (39% vs 9%) and then Peru (38% vs 18%).
In Canada (46% vs 25%) and Australia (50% vs 17%), opinion is broadly in line with the global average.

Meanwhile, in Ghana there is a higher than average proportion advocating an 'against' vote (33%). This is the third-highest proportion seen in the poll after the US and the Philippines.
In total 20,466 citizens in 19 countries, were interviewed face-to-face, or by telephone between July 3, 2011 and August 29, 2011. Polling was conducted for BBC World Service by the international polling firm GlobeScan and its research partners in each country. In six of the 19 countries, the sample was limited to major urban areas. The margin of error per country ranges from +/- 2.1 to 3.5 per cent, 19 times out of 20.
For more details, please visit www.GlobeScan.com
GlobeScan Incorporated is an international opinion research consultancy. We provide global organisations with evidence-based insight to help them set strategy and shape their communications. Companies, multilateral institutions, governments and NGOs trust GlobeScan for our unique expertise across reputation management, sustainability and stakeholder relations. GlobeScan conducts research in over 90 countries, is ISO 9001-2008 quality certified and a signatory to the UN Global Compact.
Established in 1987, GlobeScan is an independent, management-owned company with offices in Toronto, London, San Francisco, and Washington DC. www.GlobeScan.com
BBC World Service is an international multimedia broadcaster, delivering a wide range of language and regional services on radio, TV, online and via wireless handheld devices. It uses multiple platforms to reach its weekly audience of 180 million globally (2010), including shortwave, AM, FM, digital satellite and cable channels. Its news sites include audio and video content and offer opportunities to join the global debate. BBC World Service offers its multilingual radio content to partner FM stations around the world and has numerous partnerships supplying content to news websites, mobile phones and other wireless handheld devices as well as TV channels. For more information, visit bbcworldservice.com.