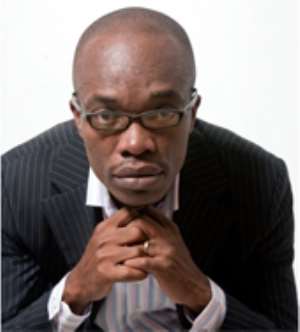 Ato Kwamena Dadzie, author of Pretending To Be President
The rise and rise of Ato Kwamena Dadzie can never be merely put down to the fact that he is a fine radio personality with a penchant for lightening serious national issues. That would be a gross understatement of the potential of one of the finest journalists this country is blessed with.
Interestingly, at age 33, he has been plying his vocation for the past seven years and already made a significant impact. Ato has the uncanny knack for speaking his mind and bringing humorous perspectives to controversial and sensitive issues of national interest both on radio and in his writings. But that is Ato for you! The type of journalist you are bound to develop a love-hate relationship for.
Ato has become an important force in the socio-political landscape in this country. Many times, he literally holds the entire nation spellbound when he reviews the newspapers on the Super Morning Show on Joy at 6.30am. He has his own unique way of captivating the politician, the student, the entrepreneur, the religious leader and anyone else who encounters him either on radio, television, newspapers, on Facebook and on his blog (atokd.com).
And just in case you never had the opportunity of reading any of his articles, he has done what most great minds and visionaries do; putting his thoughts out in a brand new book, which is just about to be released. Since the news of the book broke on Facebook and on his blog, hundreds of people from all over the world have inundated the networks with questions about the title of the book and its contents and how they can get their hands on it.
Front cover image of the book Pretending To Be President

The satirist that he is, Ato has titled the book, 'PRETENDING TO BE PRESIDENT'. The question that readily comes to mind is, "What informed the choice of such a title?" In response, he invites his numerous fans to come and interact with him at what he describes as the "outdooring" of the book on Independence Day, Saturday 6th March, at the forecourt of JOY FM at Kokomlemle between 7am and 11am.

"I feel a great sense of pride that a book has finally been birthed that I can look at and call my own. I think of the fact that my children and grandchildren will see this book and be glad to be associated with me. I find great fulfillment in sitting down and writing because talk often tends to be cheap."

"I am grateful to Ben Ephson for providing me the platform to write in his Daily Dispatch newspaper. I cannot thank Albert Ocran enough for 'vociferously' encouraging me to undertake this project, and for getting Legacy & Legacy to be my publishers." Ato said in an interview with B&FT Lifestyle.

PRETENDING TO BE PRESIDENT is a collection of articles Ato Kwamena Dadzie wrote and published in the Dispatch newspaper between 2003 and 2007. The articles are light-hearted and satirical and were written about the socio-political issues of the time under the pen name, J. A. Fukour.

Interesting as they might seem, do not let the humour make you miss out on some key lessons. Indeed, the fact that some of Ato's predictions at the time have subsequently come true in this country can never be lost on the reader.

For instance, when it was reported that some 77 parcels of cocaine were missing in police custody, a few years ago, Ato predicted then, in one of his articles, that the cocaine would never be found. The rest they say is history.

He also predicted in 2004 when the then Mayor of Accra, Mr. Stanley Adjiri-Blankson embarked on the decongestion exercise in Accra, that it could never be sustained because of political expediency. Today, six years later, that and all subsequent attempts at decongesting the city have failed woefully.

There are many more 'fulfilled prophecies' in the book, and that, among other reasons, makes it a must-read. There are several aspects of the book that are downright funny, while other parts give the reader somber food for thought; an example being "The Real State of the Nation Address."

Ato's journey to becoming a writer started somehow fortuitously. In his words, "It was one boring afternoon in March 2003. The day hadn't gone so well and there was very little reason to think that it was going to get any better. Sitting in my ill-furnished, poorly-ventilated office at Metro TV, I decided that if I allowed myself to get this bored again, I could cause grievous bodily harm to myself."

"I had just taken up the job of News Director at Metro TV and I had to build everything from scratch. It was hectic but there were long periods of inactivity that I hated. These were times when I had to just sit and do nothing but wait for reporters to return to the newsroom with their stories. On this particular day, as I sat there with nothing to do, I started reminding myself about how in journalism school I felt broadcasting was a bit of a lazy job. Writing was in my opinion more engaging, more intellectually stimulating and more artistic."

"If only I could write for a newspaper," I said to myself.

"Then it occurred to me that there were newspaper offices just up the street from Metro TV – The Dispatch, The Crusading Guide and Gye Nyame Concord. Like a robot, I just swung off the chair and decided to take a walk to the newspaper offices.

"I am going to tell one of the editors that I am bored and I need to write," I said to myself.

"Write what?" I imagined one of the editors asking me. Anything!!!" I'd say.

I knew "anything" wasn't good enough but at that point, it was all I wanted to write about. And so that was what I was going to tell the first editor I spoke with. The question then was, "Which one would it be?"

As I walked, I took out my cell phone and called Ben Ephson.

"Uncle Ben, are you in the office," I asked in Fante.

"Yes," he said. "Good, I am coming over for a short discussion so please wait for me." I spent less than 10 minutes in Mr. Ephson's office and when we were done, we had agreed on what I was going to write about, the name of the column, when it would be published and how much I would be paid -– the equivalent of eight Ghana cedis per article. It wasn't much but I was happy. Who wouldn't be?

"We had just agreed that I was going to pretend to be the head of state and write a satirical column on just about anything that struck my fancy. It was an opportunity for me to do what I truly loved – writing. I also knew it was about the closest I could ever get to being a president.

"I wrote the 'Letter from the President' column for five years. Mr. Ephson tells me it was one of the most popular columns in the Dispatch. It was also quite popular on www.ghanaweb.com – where I had it posted a day or two after the column had appeared in The Dispatch.

"In December 2007, I decided that the time had come for me to stop 'pretending', shed the cloak of anonymity and put my face – which is not easy to behold – out there. That was when I wrote the last 'Letter from the President'.

The good news is that "Pretending To Be President" will not be the last one you would experience of Ato as an author. He is planning to come out with his second book, which is almost ready, and promises readers that he will release it by the end of the year. Till then, let's all join the pretence on Independence Day and drink a toast or shall we say, "All Hail the President."

Source: B&FT