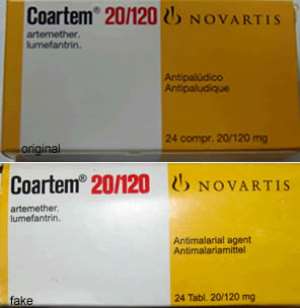 Health Access Network and mPedigree Network, an ally of IMANI Ghana, is pleased to announce a new partnership to highlight consumer and patient concerns in the ongoing efforts to improve upon the quality of medicines sold in Ghana. The goal is to ensure that a patient-centred regulatory and policymaking approach becomes the dominant way of addressing access and quality issues in Ghana as far as medicines and healthcare are concerned.
The mass withdrawal of widely-prescribed antimalarial, coartem, from several pharmacies and licensed chemical shops in Kumasi and elsewhere a few months ago is the latest in a disturbing succession of similar incidents which suggests that Ghana cannot remain complacent about the health and safety of its citizens.
This is especially so in the context of statistics from several reputable bodies which put the counterfeit prevalence rate between 15% and 25% of all medicines sold in sub-Saharan Africa.
These counterfeit incidents come on the back of several studies which have found frightening levels of substandard medication in the national drug supply chain even in Ghana. While it is true that not all substandard medicines come from counterfeit sources, and that poor handling of legitimate medicines can corrupt them, substandard medicines are just as dangerous to consumers and patients. As recently as 2008, Ofori Kwakye, Asantewaa and Gaye, Researchers at KNUST, found out that 82% of sampled artesunate sold in pharmacies in Kumasi were substandard according to European guidelines.
This situation is intolerable for patients and consumers of health products; and should be unacceptable to regulators, policymakers, and concerned civil society actors. It threatens the growth of pharmaceutical industry and commerce in this country, undercutting any possibility of Ghana attaining security in the supply of quality medicines both through trade and local production. The proliferation of counterfeit medicines must clearly be stopped.
The prevalence of fake and counterfeit medicines occurs in the form of black marketing, mislabeling, and fraudulent packaging, in some instances. But it is increasingly also being observed in incidents of duplication and imitation, contents tampering, unlicensed repackaging, unauthorized parallel trading, or the sale of dummies masquerading as drugs. In all these situations, the consequences are largely the same and fatal to Ghana's public health system. We note the growing difficulties in the national management of the malaria burden due to the growing inefficacy of some first-line treatments, a trend that is significantly attributable to the expanding presence of counterfeit anti-malarial medicines on the market.
It is important that stakeholders strive to contribute to the effort of Ghana's Ministry of Health, especially the Food & Drugs Board, to contain the crisis of counterfeit medicines, and by so doing to promote the healthy business of pharmaceutical trade and production in Ghana. Health Access Network and the mPedigree Network are delighted to announce in this light that their new partnership will serve to bridge the gap between public and private initiatives in this direction.
Health Access Network and mPedigree Network will vigorously champion the coordination of various ongoing anti-counterfeiting efforts in order to ensure a harmonized approach towards dealing with the problem at all levels of the health ecosystem. They shall support the statutory authorities in their mandate to police existing standards, while contributing to the equally critical task of formulating emerging standards that are responsive to new trends in pharmaceutical quality assurance. They shall do this by bringing patient rights and consumer rights perspectives into the heart of the regulatory and policymaking process.
Health Access Network is a network of health professionals and consumer health advocates committed to using innovative ways through collaboration with wide range of stakeholders including government, non government and civil society organisations to promote access to essential medicines for the people of Ghana.
MPedigree, a partner of IMANI Center for Policy & Education, combines insights into technology, policy matters, and social enterprise to formulate its unique approach to fighting counterfeiting. This is a model based on the principle that industry and regulatory authority should interface continuously rather than on a per-transaction basis, and that the consumer should, as far as possible, be a participant in this process, and not an incidental beneficiary. In 2008, the Network piloted a mobile phone based mechanism that enables consumers and manufacturers to interact at the point of product purchase, thus helping stem counterfeiting.
Charles Allotey, Executive Director of Health Access Network said, "Having always supported the emergence of a strong and responsive quality framework for pharmaceuticals in Ghana, we feel the time has now come to take the advocacy effort around these and related issues to the next level. While we acknowledge the good work being done by regulators and policymakers, we feel more can be done, particularly by ensuring that patients' voices and needs are better heard and appreciated".
Bright Simons, Coordinator of the mPedigree Network, advocated for the ramping up of the initiative in order to demonstrate early results for stakeholders and the general consuming public: "the task ahead is enormous, and can only be sustained through the careful exploration of all kinds of partnerships amongst stakeholders involved in varied efforts at different levels. No one stakeholder can manage all the complexities of the access and quality situation in healthcare delivery in Ghana".
For more information, contact:

Health Access Network – [email protected], [email protected]
MPedigree Network – Ampem Dankwah: [email protected]