'Omer Is Jacko's 4th child'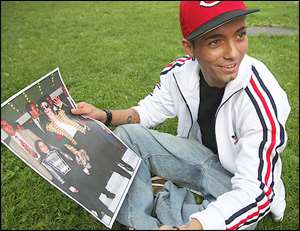 Omer Bhatti
OMER Bhatti really IS Michael Jackson's fourth child, the King of Pop's dad has sensationally claimed.
Joe Jackson confirmed The Sun's revelation last week after Omer, 25, was given a seat in the middle of Jacko's family at his memorial service.
The news came as it emerged Jacko's mum Katherine will raise his three children - but allow the biological mother of Prince Michael, 12, and Paris, 11, to see her kids.
Jackson's ex-wife Debbie Rowe did not ask for custody but was determined to keep Joe at arm's length from the children.
But former Jackson Five manager Joe seems to have lined up Omer as the Thriller singer's heir.
Joe said: "Yes, I knew Michael had another son - yes, I did. He looks like a Jackson, he acts like a Jackson, and he can dance like a Jackson.
"This boy's a fantastic dancer - as a matter of fact, he teaches dance."
Asked whether Omer could be the future of the Jackson legacy, Joe grinned: "I don't know, I can't say that yet until I see it happen."
Michael - who died aged 50 on June 25 from a heart attack - is said to have told pals in 2004 that Norwegian Omer was his son from a one-night stand.
The Sun told how he was sitting a few rows back at the memorial service at LA's Staples Center on July 7 - before Jacko's sister Rebbie moved him to the front row alongside Katherine, Prince Michael, Paris and the dead star's son Blanket, seven.
Omer has since been staying at the Jacksons' Encino home - and is believed to be seeking a DNA test.
Meanwhile, Katherine and Debbie will enlist a child shrink to help arrange access to the kids.
Ex-nurse Debbie, 50, will maintain her legal parenting rights under the deal, set to be rubber-stamped by an LA judge next week.
Debbie - who did not get any cash - was said to be be "really happy". She agreed to cover half the costs of the psychologist.
One source close to the family described negotiations as "very amicable".
Katherine's lawyer Londell McMillan said: "It's an agreement for the best interests of the children." TheSun