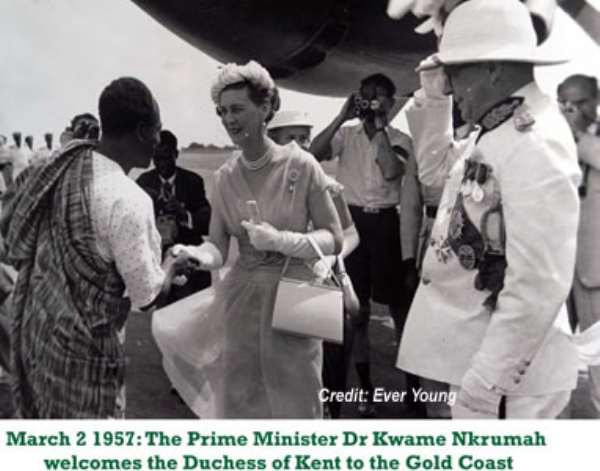 As a young boy growing up in James Town (British Accra), there was a particular route that I took to church every Sunday with my elder brother and sisters. From Bruce Road we would take a left turn at Commodore Street into St. Edmund's Street, past Mantse Agbona and into the High street and then past the famous James Fort, the Ussher Fort and then the Old Kingsway Store till we arrived at the Cathedral of the Most Holy Trinity.

There were three photographic studios along the route; "Ever Young" studio on St. Emund's Street and the Deo Gratis studio just off the High street; and just before you get to the Ussher Fort there was Mr, Darku's studio on the left (you have to look for it before you notice that small studio!). I refer to these photographic studios because when you are in your Sunday best that is where you are likely to have your photographs taken.

I had completely forgotten about the "Ever young" studio till I came into this country because as I graduated from satin tunic shirts and shorts, through short suits, and then to full suits, I sort of remembered the many more photographs that my parents had demanded that we take during the important 'events' when we really dressed for church were mostly at Deo Gratis Studios. I have however recently understood why this was so and why I was more in tune with Deo Gratia than with "Ever Young". I must say however that over the past 10 years this has changed considerably and the reason for that change is that I have had the privilege of meeting the proprietor of "Ever Young" and doubly honoured to consider him as a friend.
Mr James Aflah Barnor – 'Ever Young"; turned 80 on Saturday 6th June 2009 and I was one of the privileged people who attended his exhibition at the Paul Robeson Theatre in the Treaty Centre at Hounslow though there were several other more important personalities who attended this exhibition.

The first photographic exhibition that he had organised that I attended was graced by the then High Commissioner to the Court of St James, His Excellency Isaac Osei – that was in 2004, the next one that I attended was 2 years ago that was hosted by the Black Cultural Archives in conjunction with [email protected], and was opened by Dame Jocelyn Barrow.

But this celebration topped it all with the husband and wife team of Ann Keen MP for Brentford and Isleworth and Alan Keen MP for Feltham and Heston who were there to join Mr Barnor for the celebration of his birthday. Ann kindly opened the exhibition after a brief tribute to the work of Mr Barnor. But there were several others from the world of arts and culture at the event. Steven Blaine the Director of Arts Forum in Hounslow, Steve Flynn, Rachel Pepper from the Acton Arts Forum, Renee and Senate from Autograph, who printed some new photos for the exhibition and have been working with Mr Barnor to digitise his work that spans over 50 years and cuts across several continents. Kelly Forster was there to represent the Black Cultural archives.

There were also some important personalities from the Ghanaian community: Numo Nortse Amartey, Nii Oto Din, Nii Ashalle Asuku, Nii Nortei Omaboe, Mr Joseph Meyer, Mr and Mrs Seddoh, whose photograph taken in 1954 as a young lady was part of the exhibition, Miss Wendy Addae, and Mr Alex Amartefio, who came all the way from Ireland.

Mr Barnor at 80 wanted all to know that there were different dimensions to him; he is first and foremost a family man and his children Fred and Yvonne inspired and assisted by Mary Abbey (a cousin) had put on the birthday party in his honour. He was also a photographer and he wanted his photographs on display; but he was also a cultural drumming and dancing organiser and it was in that capacity of his popularising his cultural troupe, Feehi that I had come into contact with him.

At this event "Dance Carib" an African-Caribbean troupe really stormed the theatre; they were outstanding. They entertained us all for over one hour non stop.

But there was also another aspect of Mr Barnor on display. In the middle of the party and out of the blue, in walked a group of over 20 Indian people in their suits and Saris with a trolley packed with Indian food. They had also come to participate in all celebrations and as his friend and brother they did make him proud especially when he decided that he must change from his white 'joromi'; shirt to don on an Indian attire before he could cut the cake. And oh the cake – yes there was a traditional birthday cake as always but there was on display a sculptured "nkatie-cake" – well sculptured as in depicting fruits arranged as in still art drawings.

Well I have not talked about the pictures for the exhibition or about the other aspects of Mr Barnor because there are too numerous for the rather young old man whose preferred medium of communication is Facebook, Google chat and Skype all more media connections dispelling the lie that older people are psychologically fearful of new technology. I am sure that he is already on Twitter telling us all what he had for breakfast in the mornings.

Mr Barnor was born in 1929 and lived in James Town British Accra and at 19 years plus moved to what is known as the Otukpia area in Adabraka. He attended Bishop Boys School where he was influenced by one of his teachers 'Joy' Archampong and thus his interests in cultural activities – he led the school band then and taught in the infant school for a bit until he started his apprenticeship under the famous and renown portrait photographer, Mr. J. P. Darku Dodoo.

He set up his own "Ever young" studio in 1949 and in 1950 was employed as the first press photographer of the Daily Graphic. He was also the official photographer with Drum Magazine, Africa's leading magazine during that period.
In 1959 he left Ghana to study photography at the Medway College of Art, Rochester in Kent and taught there for a while after his course before landing a job at the Centre for Educational Television Overseas in St. John's Wood, London. He subsequently worked for an advertising agency Campbell Drayton.
But Apart from all these, Mr. Barnor's number one pride is his long association with the Colour Processing Laboratory in Edenbridge , Kent where he became proficient in colour photography, and where he was recommended to gain a place at the Agfa- Gevaert Advanced schools in Germany and Belgium, to prepare him for his return to Ghana.

He retuned to Ghana and in 1970, helped to establish the very first Colour developing and printing laboratory in Accra, Ghana.
Mr. Barnor later took other jobs while in Ghana including 5 years as the Post Photographer for the American Embassy, (US Information Services). He also spent 5 years working directly with the Chairman of the Provisional National Defence Committee in the Castle, Osu in Ghana.

Mr Barnor has lived in London since the latter part of 1994 participating fully in the cultural life of his local area. It is remarkable that he has forged links with several organisations still in pursuit of his passion for photography and black-cultural awareness. He has extended his skills into the world of digital photography learning how to use the computer as the main tool for manipulating images and he has acquired a functional knowledge of Photoshop, the main programme for doing this.
He had been active in the promotion of cultural drumming and dance groups and has seen most of the young people he nurtured in Ghana move over to this country to provide training in schools and colleges in cultural drumming and dancing.

He has made contact with people of different heritages and is as comfortable amongst Caribbean people as he is amongst Asians and white people. He is very popular amongst most people and his flat has since become a Mecca for several people who have visited to see his vast archive of rare photographs.
He tells me that he has been able to make many new friends as a result of his continued interest in all the arts; and the fact that he is courted by so many people and is now finally getting the recognition he deserves as one of the foremost custodians of our heritage is something to be marvelled at.
In his speech at the event he touched on one of his ambitions which is to get the senior citizens in the Hounslow area to bring their old photographs together as a basis for another exhibition next year. This sentiment mirrors his wish that an Association of Photographers should be formed in Ghana to trace and harness the work of great photographers that have gone before him and to build a veritable archive of the changing culture of the country through the eyes of photographers.

Mr Barnor remains a good friend to my family; he unearthed a priceless picture of my father and mother at independence and another with my late sister presenting the bouquet to the duchess of Kent at Accra on Ghana's Independence Day, March 1957. His pictures of Nkrumah during the 50's Ghana are a treasure as shown in this recollection from him: See pictures

He continues to send me pictures of Ghanaian personalities through email to our family shared computer, to the extent that my son has named him 'A picture for you'

I too join all the numerous well wishers in adding my own message of congratulations to Mr Barnor and take this opportunity to include this poem that was written by my late father to celebrate his own 80th birthday several years ago.

AN ODE ON MY 80TH BIRTHDAY
Today, God has blessed to be
My happy day of birth,
And what do I render him
For all these wonderful years of eighty?
For his redeeming grace,
For his care and protection of me,
For the blessings he has showered on me,
For giving me knowledge of his might and power,
For a father and mother who nurtured me,
For relatives and friends good and honest who cherish me,
For a loving consort selfless in her devotion,
For children born in the fear of God,
For a standing in the world that gladdens the heart,
For a smile that keeps shining on my face
Through prosperity and adversity,
And for making me know that thou
Art God Almighty worthy to be worshipped and praised,
And for thy son Jesus Christ to show me
An example of living life,
For all these manifest benefits and others
I render profound thanks to thee O God,
And give praise to thy most Holy Name
On this my eightieth birthday anniversary
JADES 1911-1995

Credit: Ade Sawyerr ©London June 2009
(Email: [email protected])