MPs will demand official vehicles - Bagbin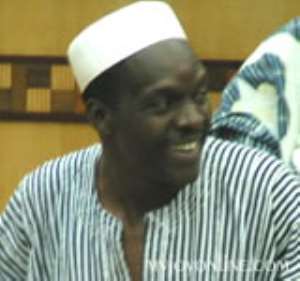 Members of Parliament (MPs) will insist that the gov­ernment should provide them with official vehicles, according to the Majority Leader, Alban Bagbin.
He stated that although the new government had not come up with any clear policy on the issue, "we will this time round insist that MPs are provided with vehicles that will help them to discharge their duties, instead of going in for loans to purchase such vehicles to generate furore from the public."
Mr. Bagbin, who is also the MP for Nadowli West, was addressing a press conference at the weekend to refute statements attributed to him published in an Accra daily newspaper.
The comments attributed to him related to the Chinery-­Hesse Committee Report on gratuity for MPs of the Fourth Parliament of the Fourth Republic.
The Majority Leader traced the history of the provision of vehicles for MPs right from the First Parliament of the Fourth Republic and wondered why there should be public outcry over vehicles purchased by MPs through loans which were eventually paid back.
He said during the First Parliament of the Fourth Republic, MPs were assisted to purchase second-hand vehicles which did not last, while, during the Second Parliament, the new vehicles which they purchased were not strong enough.
Mr Bagbin explained that it was only during the Third and Fourth Parliaments that they were offered loans to
purchase 4x4 vehicles, during which the MPs received public bashing.
He stated that since MPs had to trav­el to their constituencies almost every week and tour remote areas to interact with their constituents, there was the need for them to get vehicles that would take them through such weekly trips.
He also touched on accommodation for MPs and stated that the government had provided GH¢30,OOO for each MP to rent accommodation for two years and some months and that had enabled the government to make huge savings since, during the last Parliament, the government had to spend GH¢2.5, million on MPs' hotel bills.
Mr Bagbin stated that through the current arrangements, only GH¢60O,OOO had been spent.
Touching on the gratuity given the MPs of the last Parliament, the Majori­ty Leader explained that GH¢82,OOO was paid to each of the beneficiaries but that a sizable chunk of that was used to repay the loans contracted to purchase vehicles for their official work.
He added that what each MP would get at the end of the day would be about GH¢20,OO0.
He advised former MPs against using stickers meant for MPs on their vehicles, since that would amount to
impersonation.
On the earlier report attributed to him, Mr Bagbin said in presenting a "bizarre" report of the event in Kumasi, the newspaper pencilled down quota­tions which "it claimed came from my lips".
He stated that he would always want to see a cordial and harmonious rela­tionship between the media and Parlia­ment to promote a just and free society and cautioned that "misrepresentations will never do anybody any good. Giv­ing a dog a bad name and hanging it will not help us".
He explained that in his presentation in Kumasi he had stated a number of apologies Parliament had rendered for its inability to scrutinise the voluminous Chinery-Hesse Report before it was passed.

"We cannot run away from that fact. What else is expected of us to warrant this sordid twist of facts?" he asked, and reminded the media that the ability of the electorate to make informed deci­sions would depend on them.
"It, therefore, behoves all of us to be, as objective as possible in our quest to ensure the flow of information from the government to the people and vice versa,'' he added.