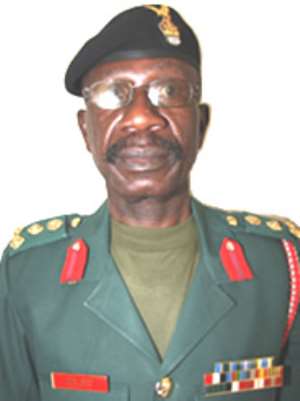 President J.E.A. Mills has made five senior command appointments in the Ghana Armed Forces.
A statement signed Tuesday by Mr. J.K. Bebaako-Mensah, Secretary to the President, said the president has appointed Major General P.A. Blay as the new Chief of the Defence Staff.
Other officers appointed to the military high command included: Major General J.N. Adinkrah, Chief of the Army Staff, Rear Admiral M. Quarshie, Chief of Naval Staff, Air Vice Marshal M. Samson-Oje, Chief of Air Staff and Commodore G.M. Biekro, Chief of Staff – General Headquarters.
The appointments, according to the statement, were made in consultation with the Council of State, as stipulated by Article 212 (1) of the 1992 Constitution.
The statement also announced that Major General Carl Modey, a Ghanaian soldier currently serving with the United Nations Forces in Liberia, has been promoted to the substantive rank of Major General.
Early on the day, the president also received the former Service Chiefs and "thanked them for their invaluable, loyal and dedicated services to the nation, and wished them well in their future endeavours".
Story by Isaac Essel