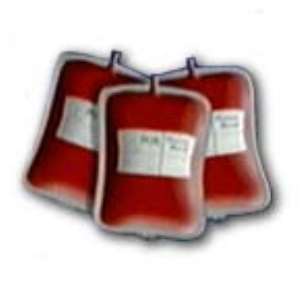 The Management of the Korle Bu Teaching, on Thursday appealed to the public to urgently donate blood to the hospital to enable it to save the lives of patients, especially accident victims.
The hospital cited that even though it had enough blood to attend to victims of the recent accident at Winneba Roundabout in the Central Region, involving a gas tanker and three other vehicles, the hospital might run out of stock.
Mr Mutstaph Salifu, Public Relations Officer of the hospital, in an interview with the Ghana News Agency on Thursday said "We have sufficient logistics but the conditions of the accident victims are so critical that the demand for blood will be high and we might run out of stock".
He said one dead body and 12 injured persons of the recent Winneba Roundabout accident, were referred to the hospital
and three of the victims died later at the hospital.
The accident, which occurred in the evening of Wednesday, March 18, 2009, left about 36 victims with between 80 to 90 per cent burns on their bodies.
Most of the victims were occupants of the tanker and the three vehicles, eyewitnesses and volunteers, who were at the accident spot to rescue victims.
Dr. Dodi Abdallah, medical officer of Winneba Government Hospital, said the burns on some of the victims were serious and fatal as most of them were burnt from head to toe, adding, "Their survival is very slim".
According to eye witnesses' account, a tyre of the tanker got burst, causing the driver to loose control of the steering wheel resulting in a head-on collision with an Opal vehicle.
In the process, the tanker got severed from the rest of truck and the gas exploded.
Seven people had died, one on the spot and six others soon after admission at the Winneba Government Hospital from severe burns they sustained.
According to the Police, a fully loaded gas tanker heading towards Takoradi had a head-on collision with an Opal passenger vehicle, which was moving from the opposite direction of the road.
The police said two other vehicles that were following the Opal and the tanker closely, caught fire.
According to the police, a total of 35 passengers on board the vehicles were rushed to the Winneba Government hospital, but six died soon on admission at the hospital.
Four persons whose conditions were stable were receiving treatment at the Winneba Government hospital, while the unidentified bodies have been deposited at the mortuary of the same hospital.
In another development the police said they had discovered three badly burnt bodies at the accident scene this morning which had been deposited at the Winneba Government Hospital mortuary.
The police are investigating the cause of the accident.
GNA