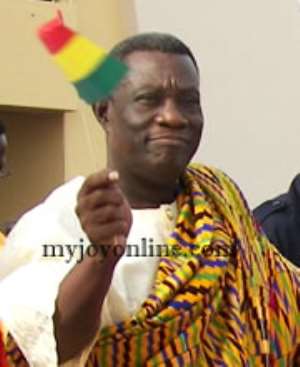 A member of Parliament's Appointment Committee says he is appalled by the quality of ministers and deputies nominated by President Mills.
Joe Osei Owusu could not hide his disgust following an abysmal performance by the Deputy Trade and Industry Minister John Jantuah during his vetting.
The nominee to the surprise of the committee members wrongly answered simple questions relating to his portfolio.
Mr. Jantuah, among other things, did not know the full meaning of EPA and did not have a firm grasp of Ghana's Internal Trade Policy.
Mr. Osei Owusu told Joy News' Sammy Darko the "country is in for a hard time."
The former Driver and Vehicle Licensing Authority (DVLA) boss said Mr. Jantuah cannot be singled out for criticisms saying some of the nominees also failed to acquit themselves.
He was however not ready to mention names.
Asked if Parliament cannot on its own disappoint the nominees, Mr. Osei Owusu indicated once the people qualify to be Members of Parliament, there is very little they can do, apart from making their background checks on them.
Mr. Osei Owusu chided President Mills for his nominations adding it is a reflection of a weak political leadership.
"I don't know if he (President) is putting his best foot forward," he quizzed, but noted the president would have to take responsibility for the performance or failures of his appointments.
Meanwhile, the presidential press secretary Mahama Ayariga has dismissed assertions that due diligence was not made before the nominations were made.
Whilst he did not hold brief for the poor performance by some of the nominees, he stressed some of them may not perform well during the vetting, but would be able to acquit themselves once approved.
He challenged Parliament to thoroughly assess the nominees and make their own judgments on them.
"It is a matter for Parliament to take a decision on," he said.
Listen to excerpts of Mr. Jatuah's response in Parliament as well as interviews with Messers Osei Owusu and Mahama Ayariga in the attached audio.
Story by Nathan Gadugah