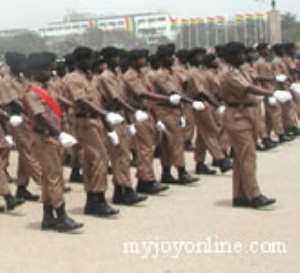 Oseadeyo Akumfi-Ameyaw IV, Omanhene of Techiman Traditional Area, has urged supporters of political parties not to engage in reprisal attacks but focus on addressing challenges such as unemployment, health, water and sanitation facing the ordinary Ghanaian.
He explained that reprisal attacks and intimidation has the potential to destabilize peace in communities thereby compounding existing problem facing the country and entreated supporters of various political parties to join hands with the new government to work towards accelerating development for the benefit of Ghanaians.
Oseadeyo Akumfi-Ameyaw gave the advice at the 52nd independence Anniversary celebration at Techiman in the Brong Ahafo Region. The celebration which was attended by school children, security personnel and identifiable groups was under the theme ''Peace and Unity: Pillars for National Development ''.
He commended the Peace Council in the Techiman Municipality for their contribution towards the management of pre-election conflicts in the area and appealed to the council to extend their activities to the solution of post election conflict, harassment and intimidation in the area by political party supporters on each other.
The Omanhene asked the school children to avoid anti-social vices and work hard to climb the educational ladder to become responsible adults.
Mr. John Tuoyire, Techiman Municipal Co-ordinating Director, in an address read on behalf of the regional Minister underscored the need for the people of the region to become each others keeper and work towards the promotion of investment in the area.
He said the essence of the independence celebration was to nurture and instill patriotism in school children and asked them not to succumb to peer pressure from friends.