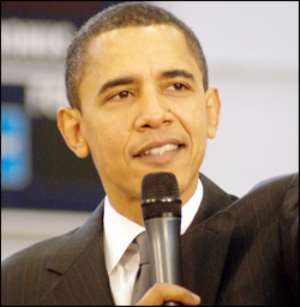 Barack Obama
President Barack Obama imposed tough new rules on Wednesday to rein in corporate pay, capping executive compensation at $500,000 a year for companies receiving taxpayer funds as he seeks to put the struggling U.S. economy onto a new foundation.
"In order to restore our financial system, we've got to restore trust. And in order to restore trust, we've got to make certain that taxpayer funds are not subsidizing excessive compensation packages on Wall Street," Obama said, calling such lavish compensation packages "the height of irresponsibility."
Obama, who sharply criticized Wall Street chiefs for accepting billions of dollars in bonuses last year while the economy staggered toward collapse, had promised compensation reform as part of a package of stricter regulations on the financial industry.
"For top executives to award themselves these kinds of compensation packages in the midst of this economic crisis is not only bad taste — it's bad strategy — and I will not tolerate it as president," said Obama, a Democrat who has been in the White House just two weeks after succeeding Republican George W. Bush.
"We're going to be demanding some restraint in exchange for federal aid."
Some Wall Street analysts and observers quickly criticized the move, saying it could lead to an exodus of talent from top firms.
"This is pure political grandstanding. If the limit has bite, it will be counterproductive and the unintended consequences will hurt the U.S. as skilled and bright senior managers make choices," said David Kotok, chief investment officer at Cumberland. "If the limits have loopholes, they are a sham. Industrial policies fail. So will this one."
The restrictions announced on Wednesday were a first step in a broad effort to overhaul pay practices and are likely to be popular with average Americans who have been reeling from job losses and financial worries as the recession bites.
"Thank you Mr. President. It is definitely time," said Dawn Berry, a fight attendant from Scottsdale, Arizona.
"Maybe it will send a message to the other CEOs and decision makers at top levels of management … don't go around living high on the hog when you have employees who are wondering each day if they come in to work, if it's going to be their last day."
One size fits all?
Critics said the move could prompt talented executives to flee companies that fall under the guidelines.
"One size fits all has never worked. It is an understandable effort but it is a dangerous one," said Mark Poerio, partner at law firm Paul Hastings.
"If you have someone who was making well over $1 million, and now they are capped at $500,000, it is very conceivable that they are going to look to go to a company that is not subject to those limitations."
But U.S. House of Representatives Republican leader John Boehner said companies seeking government funds should expect to face restrictions.
"I think if anybody is looking to the taxpayer to help bail their company out, these kind of executive compensation limits are appropriate."
Obama's call for pay limits mirrors efforts made or under consideration in other countries hit by the global economic downturn.
European Union finance ministers have said managers of bailed-out European banks should "not retain undue benefit," but they imposed no specific limit. Germany plans to set a 500,000 euro pay limit for executives at rescued banks as well as a ban on bonuses and stock-option grants.
The new U.S. rules would require companies that get exceptional government funds in future to abide by the cap.
Additional compensation must be limited to restricted stock that does not vest until government money is paid back with interest, according to the new rules.
Companies that have previously received bailout money — such as financial giant Citigroup and insurer AIG — would have to agree to stricter oversight and prove they have followed already established limits on executive compensation, which are widely seen as being too lax.
Obama's announcement on Wednesday could potentially divert attention from Tuesday's withdrawal of former Senator Tom Daschle's nomination to lead Obama's bid to expand healthcare insurance. Daschle pulled out as he faced criticism over late payment of taxes.
Source: Reuters