Low early voter turn-out in some major towns in Volta Region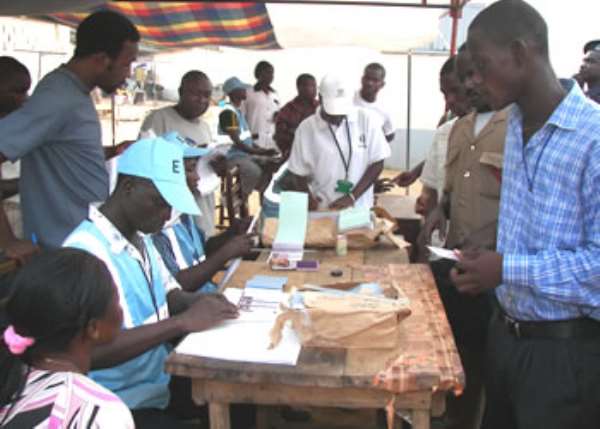 Early voter turn-out in Ho, Hohoe and Nkwanta was less than it was on December 7.
The long winding queues that characterized early voting on December 7 were hardly obvious at some polling stations visited by the Ghana News Agency (GNA).
In Ho a motor-rider and his pillion rider were going round town urging people to come out to vote.
Reverend Ebenezer Ayivi, Presiding Officer at the Ho-High Court Polling station, told the GNA that as at 0753 only 36 people had voted at the Polling station compared with 100 at the same time on December 7.
He reasoned that this could be due to a combination of factors including voter fatigue and lack of enthusiasm by parliamentary candidates to get people to vote as they did on December 7.
Mr Fred Schroeder Bediako, Presiding Officer at the Ministry of Food and Agriculture Polling Station, told the GNA that his team was not under pressure as was the case on December 7.
He said unlike December 7, where most churches shifted their Sunday worships to Saturday through public announcements their positions were not clear this time.
In Hohoe some Churches were in session while several young men were playing football.
Some of them told the GNA that they did not have the desire to stand in long queues and might vote later in the day.
Streets in the town were also busy with several shops opened for a Sunday unlike on December 7.
In four out of eight polling stations the GNA visited in Nkwanta there were less than 50 people around to vote by 0700 hours unlike on the December 7 where long queues characterized early turn out.
Otoase (E/R), Dec 28, GNA-Eighty-seven persons have so far voted at Otoase Presbyterian Primary School Polling Station near Coaltar in the Ayensuano constituency as at 0730 hours.
Briefing the Ghana News Agency (GNA), Mr Ayi Watson, the Presiding Officer, said the station had a registered voter population of 732.
There were no queues at the polling station at the time of the visit.
There were two security personnel there and four party agents, two for each of the two presidential candidates contesting the presidential run-off.