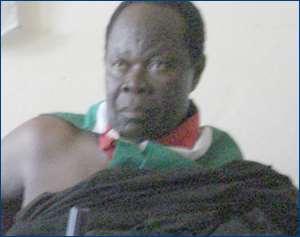 Daniel Ohene Agyekum THE ASHANTI REGIONAL chairman of the National Democratic Congress (NDC), Daniel Ohene Agyekum has stated categorically that founders and leaders of the party believe in the Antoa river god and will always visit it when the need arises.
According to him, both members of the New Patriotic Party (NPP) and the NDC rely on the river god for most of their activities therefore there was no difference between the two parties.
Ohene Agyekum made the statement at a regional rally of the party on Thursday at the Asem Boys Park in Kumasi.
In his view, though some members of the NPP secretly visit various shrines for assistance he would continue to make his open to the general public as a matter of principle.
The NDC chairman said he had no regrets in spite of the condemnation from most Ghanaians for invoking the Antoa deity to curse certain people in the Ashanti region.
The Member of Parliament (MP) for Asawase, Alhaji Mohammed Mubarak Muntaka urged the crowd not to make the mistake of retaining the NPP government in power "since such a situation would amount to being deceived three consecutive times."
According to him, the NPP government has nothing good to offer Ghanaians and should therefore be rejected by the electorate on Sunday. He accused NPP officials of siphoning monies accrued from the Highly Indebted Poor Countries (HIPC) Initiative funds.
Alhaji Mubarak indicated that because the NPP government does not care about the welfare of the poor in society it has failed to complete even a single affordable house for Ghanaians, even though the President is going round commissioning a lot of projects.
He said the introduction of the National Health Insurance Scheme was good and stressed that Prof. Atta Mills' government would make it better.
Most of the speakers who were mostly from the Ashanti region strongly warned members of the party not to obey the Electoral Commission's instruction that voters should go home after casting their ballots, entreating them to stand at the polling stations and watch proceedings to the end, to forestall rigging. From Stella Danso, & Ernest Kofi Adu, Kumasi