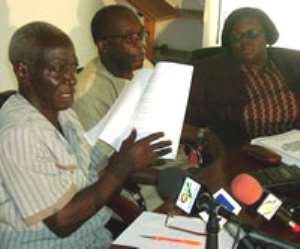 The Electoral Commission is 95 per cent ready in terms of logistics for the December 7 general election, says Albert Kofi Arhin, the Director of Elections.
"EC doesn't have any problem with logistics and personnel," he told the Times in an interview on Friday.
He said the printing of electoral materials would be completed this week, and said adequate preparations had been made to ensure that the ballot papers were sent to the various regions immediately printing was completed.
Asked, whether the EC was adequately resourced financially to conduct the election, Mr Arhin explained that the EC had budgeted for all its programmes, "but we request for money as and when the budget is exhausted".
He said for instance that the EC factored into its budget the possibility of a run-off and was ready to organise election within 21 days, the statutory days within which elections can be held in the event of a run-off.
Last week, Mr Arhin was also reported to have said at a training programme organised by the EC in conjunction with KAB Governance Consult for journalists, that the EC had set aside 10 per cent of extra ballots over the number of eligible voters at every polling centre for exigencies.
For instance, he said 1,000 extra ballot papers would be made available to a polling centre with 10,000 eligible voters.
The move, Mr Arhin explained, was to quickly address any shortage of ballot papers that might arise as a result of spoils and voter transfers.
Touching on the safety of the ballot papers, he said that the ballots would be kept in the police armouries at the regional and district capitals and distributed to the polling stations on voting day.
Mr Arhin said the "exercise will be carried out by the Police and EC officials in the presence of representatives of all the political parties".
Touching on personnel, Mr Arhin said the EC would this week organise training programmes for temporary staff it had engaged for the election, as well as the polling agents.
Source: The Ghanaian Times