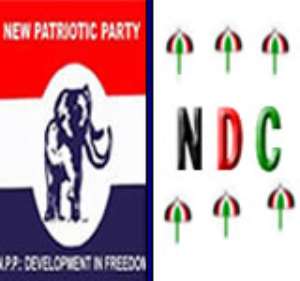 The National Democratic Congress (NDC), on Monday said the New Patriotic Party (NPP), was finding it difficult to keep pace with its three-pronged-campaign strategy.
A statement signed by Mr. Elvis Afriyie Ankrah, NDC Deputy General Secretary in charge of operations, and made available to the Ghana News Agency (GNA), said " the campaign strategy where we have Professor John Evans Atta Mills, leader and flag bearer leading one team to various parts of the country, his running mate, Mr. John Dramani Mahama leading another team whilst the founder of the NDC, Mr. Jerry Rawlings leads yet another team was posing problems for NPP."
It cited that speaking at NPP regional rally at Madina, Accra, President John Agyekum Kufuor said a vote for Prof. Mills would be a vote for ex-president Rawlings and that the ex-president and the running mate were more prominent on the campaign trail than the flag bearer.
The statement said this was a deliberate attempt to misinform the public because the NDC flag bearer has been on his feet touring every part of the country for almost one and-a-half years, whilst his running mate joined the campaign trail less than 6 months ago and the founder of the party started campaigning barely three months ago.
It said the NPP was having difficulty in finding an antidote to this superior strategy of the NDC.
"If the NPP cannot find men with the stature, image and influence of Professor Mills, Mr. John Mahama and Mr. Jerry Rawlings, to fire up their flagging campaign, that is their own problem. We in the NDC recognise, appreciate and understand the role of running mates and vice presidents", the statement said.
It urged President Kufuor to pre-occupy himself with the fact that Ghanaians were fed up with the terrible state of affairs and do not want a third term of the looting, corruption and suffering meted out to them by the NPP.