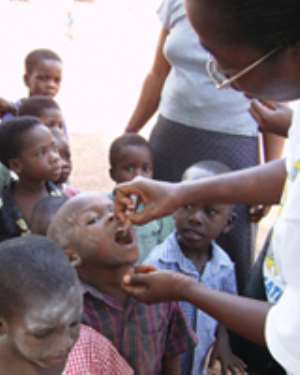 Malaria is by far the leading cause of death in Ghana. Around one-quarter of children who die before their fifth birthday are killed by the disease, and it claims the lives of many pregnant women too.
One very effective way of preventing malaria is by sleeping under nets that have been treated with insecticide. In recent years, DFID has helped bring these bed nets to some of Ghana's most at-risk groups. In addition, we have provided immunisation and vitamin supplements.
Getting nets to women and babies
In 2006, DFID spent £6 million to buy more than 1 million long-lasting, insecticidal nets (LLINS) for children under 2 years of age. This saved an estimated 10,000 lives.
The following year, DFID contributed a further £2.7 million, to provide about 600,000 bed nets for pregnant women, new mothers, and children under 1. Thanks to this extra funding, a total of around 900,000 infants and 500,000 pregnant women have been supplied with some 1.5 million lifesaving nets.
The view from the ground
Abena Sono works as a programme assistant for DFID and was present during the 2007 anti-malaria campaign. She describes the scenes at distribution points on the first day, as women and children arrived to get immunised and pick up their nets:
"At the three sites I visited, health workers and volunteers were already at work. The turnout was quite good: a large number of children had already been immunised, with quite a number still waiting their turn. Incidentally, this first day of the campaign happened to be the antenatal day at one of the sites, so there was quite a showing of pregnant women and children."
DFID Ghana's deputy programme manager, Yvonne Agbesi, also observed the 2007 campaign. On the second day, she saw how immunisation was well underway in Greater Accra:
"We visited three immunisation sites located in a local school, district health centre and a market. The sites had been provided with enough supplies, and there was a systematic approach to delivering the vaccinations, with immunised children having their fingers marked with indelible ink. Birth registration officers were also stationed at some of the sites, to provide free registration services."
Keeping Ghana well covered
Although the campaign was a success - exceeding the targets on providing nets to children - it didn't pass without obstacles. A delay in the shipment of some of the nets (bought using non-DFID funds) meant that vouchers, exchangeable for nets at a later date, had to be issued in some places.
Also, it remains crucial that the gains made are not lost and that Ghana's most vulnerable people continue to receive protection - the aim of the campaign is to get all pregnant women and children under 3 sleeping beneath treated bed nets.
Ghana's health service will have an important role to play in ensuring that, in the future, nets are easily available to those who need them. To this end, there will be ongoing routine distribution through child welfare clinics and antenatal care services. More people under bed nets - and more people immunised - is vital if Ghana is to meet Millennium Development Goals on health.