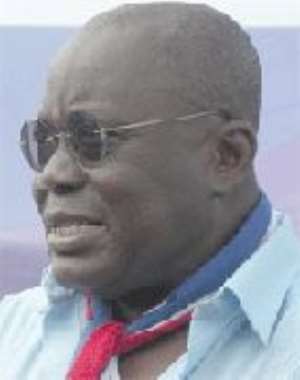 The flag bearer of the New Patriotic Party, Nana Addo Dankwa Akufo-Addo, has said the time has come for the people of Africa to work hard to match the speedy development across the world.
He said the current generation of Africans and for that matter Ghanaians must not seek handouts to ensure their progress and development but work hard to ensure their own welfare and well-being.
Nana Akufo-Addo made this observation at the ongoing annual conference of the United Kingdom's Conservative Party in Birmingham yesterday.
He said Ghana had made great strides and completely moved away from dictatorial rule where governments did everything all by themselves.
This, according to Nana Akufo-Addo, had ensured a steady development for the entire people of Ghana.
He said it was not by chance that Ghana was first in almost everything in Africa because she had shown great leadership skills and quality on the continent by way of emancipation, development in freedom and true democracy.
"We believe it is not good for a globe that is dominated by a rich minority in the north with the majority in the south languishing in poverty and misery.
 This is not a prescription for global stability,'' Nana Akufo-Addo said.
He described the relationship between Ghana and Britain as a long-standing one, which has benefited both sides.
He recollected the arrival of the British in the 17th Century at the shores of Ghana and their building of James Fort, which has been a tourism icon for Ghana and Britain up to date.
He praised the British government for the various forms of economic assistance.
Nana Akufo-Addo also mentioned the two parties, the Conservative Party and the New Patriotic Party, as sharing common values of freedom, true democracy, rule of law and commitment to the market economy.
He said the NPP's mission of spreading wealth amongst the entire citizenry would be carried on until equal opportunity and access were created for all Ghanaians.
"We need to create a Ghana that will provide a model progress in freedom for the rest of Africa."
Nana Akufo-Addo said Ghana was determined to become one of the first or possibly the first in economic issues on the continent of Africa.
"We cannot therefore continue to be raw material producers, but move into vigorous industrialisation to enhance our economy and the rest of the world".
He observed that the future of Ghana was bright with the economy on the path of transformation, economic transformation that will benefit all Ghanaians, adding that the nation's resources, especially the oil find, would be judiciously used by his government.
Story by Nana Sifa Twum and Kwaku Owusu Frimpong.