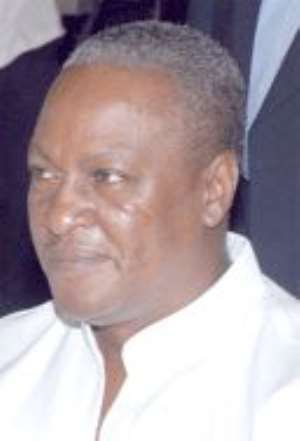 Mr John Dramani Mahama, the running mate of Prof. John Evans Atta Mills of the National Democratic Congress (NDC), has urged the Electoral Commission (EC) to be proactive in taking effective initiatives to cleaning of the voters register.
He suggested that the EC could identify those who looked below 18 years. In that case, he suggested they could get to the suspects' communities and verify whether or not they were below 18.
 "They must be handed over to the law enforcement agencies, if they are found to be below 18," he stressed.
Mr Mahama was speaking to the Daily Graphic in an interview with him in Accra on the measures, he believed, could be taken to clean the voters register.
"I am not saying the EC should go and arrest those who could easily be identified as minors.
The commission should identify these people and verify and if they are truly below 18, then the law takes its course.
This could make others readily own up or prevent future occurrences of such malpractice," the running mate said.
"The register is the document the EC works with. Therefore, it has the responsibility to ensure that it is genuine and useful to enhance the electoral process," he added.
Mr Mahama, who said the political parties would also, on their part, assist the EC in cleaning the register, added that "the law says that under-age people should not register, and it is the responsibility of the EC to prevent such people from registering".
Just after the recently held limited voter registration, the Chairman of the EC, Dr Kwadwo Afari Gyan, described the figures on the current voters register as statistically incorrect and made a passionate appeal to Ghanaians to help him and the EC to clean it up.
He said in its current form, the register could be a recipe for chaos on the election day, warning that if Ghanaians did not assist the EC to clean it during the voters register exhibition exercise, Ghanaians will see children, foreigners and people with double identity voting on election day, "and nothing could be done about it".
"If we don't correct it now and we wait till the voting day, we will see a minor voting, and because we cannot challenge his/her eligibility, some people might resort to using force to take the person away from the queue, and that could result in chaotic situations," he noted.
He said with the current national population of 22 million, having almost 13 million people on the voters register was unheard of.
During the recent limited registration, the EC estimated that at most, one million people would be registered, but the number soared to a staggering 1,835,417.
This increased the voter number from 10,354,970 to 12,822,474.
Story by Donald Ato Dapatem