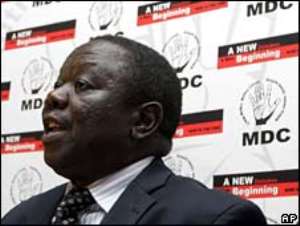 The MDC believes its leader Morgan Tsvangirai has won outright
Zimbabwean police have arrested at least five officials for allegedly under-counting votes cast for President Robert Mugabe in last month's election.
Police said the election officials have been charged with fraud and criminal abuse of duty, accused of taking nearly 5,000 votes away from Mr Mugabe.
UN Secretary-General Ban Ki-moon joined international calls for the urgent release of the results.
The opposition MDC is seeking a court ruling to force publication of results.
The Movement for Democratic Change (MDC) says its leader, Morgan Tsvangirai, won the election by a clear majority.
But Mr Mugabe's Zanu-PF is seeking a recount.
On Monday a High Court judge dismissed the Zimbabwe Electoral Commission's (ZEC) argument that his court did not have jurisdiction and set the case for Tuesday.
The judge said he would decide whether to treat it as an urgent case, before hearing the actual arguments.
"I think ZEC just wants to delay this whole thing," said opposition lawyer Alec Muchadehama.
The ZEC lawyer said the votes were still being verified, while the ruling party's demands for a recount was also delaying matters.
Meanwhile, two foreign nationals accused of working as journalists without accreditation have been freed on bail and are due to appear in court again on Thursday.
'Preparing war'
Earlier, Mr Mugabe called on the black population to ensure white farmers did not regain seized land, reports say.
He said black Zimbabweans could not afford to "retreat in the battle for land", the Herald newspaper said.
At least 18 of Zimbabwe's few remaining white-owned farms have been invaded since Saturday, farmers say, raising fears of renewed violence ahead of a possible run-off in the presidential election.
Mr Tsvangirai is currently in South Africa, where he is having a series of meetings, including talks with the ANC leader Jacob Zuma.
In an article published on Monday, the state-run Herald newspaper quoted Mr Mugabe as saying Zimbabwe's black population had to protect their land from white farmers.
"Land must remain in our hands. The land is ours, it must not be allowed to slip back into the hands of whites," he is quoted as saying.
In 2000, there were 4,000 white farmers working on much of the best land in Zimbabwe.
Just 300 now remain after a campaign of often violent land seizures, with the land redistributed to black farmers.