If Danquah was a CIA Operative, then Nkrumah was Hitler Incarnate!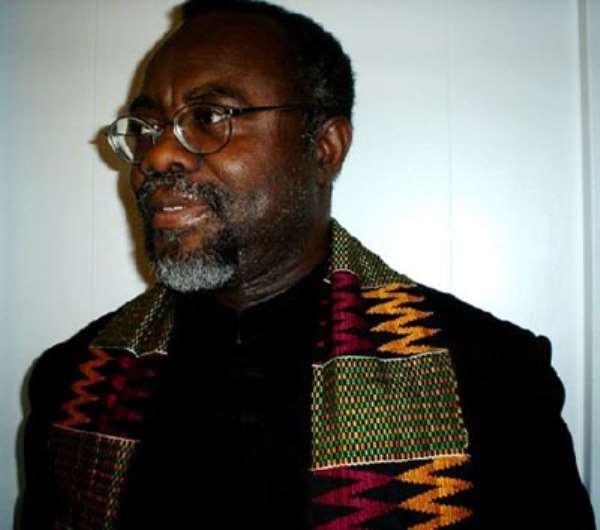 When I first came across the article titled "Oh No Akufo-Addo, It's too early for this" (Ghanaweb.com 3/27/08), I was of the quite innocent opinion that it likely had something to do with the author presuming Nana Akufo-Addo's promulgation of his political campaign agenda to be far in advance of schedule. Thus, my gut riposte was to interject that such criticism was all too stereotypically Ghanaian. I mean, that laid-back attitude of tardiness. I had quite a slew of other writings to do, and so I decided to shelf it for at least another day or two. Then I phoned my good friend and elder brother Kwasi Ohene and asked him to quickly brief me about the contents of the article. Unfortunately, Kwasi had yet to read it; he often is the first to read most of the sensational postings on Ghanaweb.com. Then he would e-mail me from work and suggest which of them requires an immediate response or rejoinder.

The article, written by a Mr. Ato Kwamena Selby, is quite intriguing, if also because it offers absolutely nothing new; rather, it merely repeats the mainstream Cii-Pii-Pii propaganda fare. For instance, three-quarters through the rather unnecessarily lengthy article, Mr.Selby writes that: "Declassified United States of America (USA) Central Intelligence (CIA) files have exposed the founders of the [Danquah-Busia] tradition, led by Dr. J. B. Danquah, incidentally an uncle of Nana Akufo-Addo, as being on their payroll and therefore traitors! Does that explain why they had to call themselves a 'patriotic' party?"

Of course, my natural reaction was to snort contemptuously at this criminally facile and perennial attempt by woefully misguided and fanatical Cii-Pii-Pii-ites to cheaply sell well-meaning Ghanaians the sort of abject mendacity that even a clinical idiot wouldn't buy. For starters, while it is true that Nana Akufo-Addo is related to the putative Doyen of Gold Coast and Ghanaian politics, it is absolutely false for anyone to claim that Dr. J. B. Danquah was "an uncle" to Nana Akufo-Addo. The stark historically reality is that it was Nana Akufo-Addo's mother who called Dr. Danquah "Uncle." In other words, Nana Akufo-Addo was the grandnephew of Dr. Danquah. Needless to say, any writer who does not appreciate this most elementary of historical facts is not worth our while. In sum, the writer is a snot-nosed liar and a fleering scumbag!

On the other hand, for genuine and meticulous scholars of modern Ghanaian history who routinely commit such familial error, such understandable confusion often comes from the fact that Nana Akufo-Addo's Oxford-educated, distinguished father, the former President Edward Akufo-Addo, was also a bona fide member of the celebrated "Big Six" of Ghana's independence movement, a movement which was co-founded by Mr. George Alfred (Paa) Grant and Dr. J. B. Danquah. Then, of course, there was also Mr. Aaron Eugene William (Paa Willie) Ofori-Atta, the maternal uncle of Nana Akufo-Addo. And so, in reality, a full 50-percent of the membership of the "Big Six" were close relatives of the current Presidential Candidate of the ruling New Patriotic Party.

On one level, what the preceding simply means is that it is rather presumptuous (indeed, outright arrogant) for Mr. Ato Kwamena Selby to claim that President Kufuor is, somehow, the political mentor of Nana Akufo-Addo. Needless to say, in terms of the history and evolution of modern Ghanaian politics, Nana Akufo-Addo has a respectable and deep-running pedigree that is only rivaled by a handful of Ghanaian politicians. Rather, it cannot be gainsaid that, indeed, President Kufuor's publicly confessed mentor, Dr. Kofi Abrefa Busia, was actually mentored by both Dr. J. B. Danquah and Justice Edward Akufo-Addo; and it was not for any gratuitous – or whimsical – reason that shortly after assuming the prime ministerial reins of Ghana's governance, Dr. Busia's first order of business was to name Justice Akufo-Addo the former's ceremonial President and the constitutional, honorary head of the Ghanaian state, in much the same manner that Queen Elizabeth II, of England, is head-of-state of the United Kingdom of Great Britain and the dominions of Canada, Australia and others.

And does it now also make any sense to Mr. Ato Kwamena Selby that President Kufuor may, allegedly, feel a little uneasy to have the inimitably eloquent and confident Nana Akufo-Addo among his circle of close friends and associates?

But what is even more intriguing is that Mr. Selby does not explain to his readers just why the future President Kwame Nkrumah shamelessly decided to adopt the word "Convention," obviously derived from the name of the United Gold Coast Convention (UGCC), the seminal Ghanaian political party whose name was created by Dr. Danquah and his nephew Mr. William Ofori-Atta, rather than create a wholly original name for his so-called Convention People's Party? Really, who betrayed whom, Mister?!

The writer also criminally accuses Dr. Danquah of having been on the payroll of the U.S.-Central Intelligence Agency without, as usual, providing readers with any specific documentary sources to give credence to his slanderous accusation. We firmly believe we know why; and it is simply that Mr. Ato Kwamena Selby has no hard evidence to shore up his libelous accusation. We, on the other hand, can objectively point to documented eyewitness accounts authored by the frontline likes of Generals Ocran, Afrifa and Kotoka, as well as other equally reliable sources, to corroborate our assertion of President Nkrumah having indefatigably worked for the ideological and imperialist interests of the former Union of Soviet Socialist Republics (USSR). Of course, we also hope, though we are banking on it, that Mr. Selby is fully aware of the fact that Ghana's largest trading partner on the African continent during the Nkrumah era was, you guessed right, Apartheid South Africa! (see Kwame Arhin's "The Life and Work of Kwame Nkrumah").

We also have historic examples of the architecture of Nkrumah's own CPP government to support our contention regarding the opportunistic and unabashedly dictatorial African Show Boy (ASB) having been a fascist neo-Nazi and servile worshipper of the "Third-Reichian" shrine of Germany's Chancellor Adolf Hitler. For starters, we have the Young Pioneer Movement (YPM), the cult of personality of whose blasphemous tenets both Professor Atta-Mills and Dr. Paa Kwesi Nduom proudly claim bona fide membership.
It is also rather curious that Mr. Ato Kwamena Selby would self-righteously accuse the NPP government of frittering away the relatively piddling sum of $ 600, 000 (Six-Hundred Thousand Dollars) in business contracts to a Norwegian firm for the management of Ghana Telecom, while also failing to explain to his audience that it was, indeed, the abject incompetence of the preceding Provisional National Democratic Congress (P/NDC) government which created the Stygian mess which is Ghana Telecom. (And do the names of Dr. Boadu, Messrs. Selormey and Peprah ring a bell in his ears?) And for good measure, Mr. Selby, were he as honest as he claims, would also have highlighted the scam-riddled SCANCEM-GHACEM project initiated by the Nkrumah-leaning NDC. But, of course, to tell our readers the truth, we did not even half-expect a patently irrational muckraker like Ato Kwamena Selby to boldly face up to the truth of both Nkrumaism and Rawlingsism. It would have been simply too blindly traumatizing for him.

And does Mr. Selby know that of the five suspects promptly arrested at the scene of the Kulungugu assassination attempt, a full three, or sixty-percent, were executive, card-carrying, members of the Convention People's Party? And also the fact that nearly every one of them had served in some form of executive, or cabinet, capacity? For his information and, also, the information of readers who might have readily been taken in by Mr. Selby's crock of lies, prominent among the Kulungugu suspects were Mr. Ebenezer Ako-Adjei, the very man who introduced Kwame Nkrumah to Dr. Danquah, the UGCC and the mainstream of modern Ghanaian politics; Mr. Tawiah Adamafio, the CPP propagandist who popularized Nkrumah's faux-monarchical title of Osagyefo; and Kofi Crabbe.
Of course, President Nkrumah was to also cause the arrest, torture and assassination of Mr. Emmanuel Obetsebi-Lamptey, a man who was not even present at Kulungugu, the site of the assassination attempt, and of whom even Nkrumah's own Attorney-General, Sir Geoffrey Bing, the Anglo-Irish British Parliamentarian, was to write in his quite powerful and authoritative memoir "Reap the Whirlwind," that of all the Kulungugu suspects rounded up for interrogation and prosecution, Mr. Obetsebi-Lamptey, then also gravely ill, was the least likely to have been involved.

Finally, regarding the Richard Anane Affair, his reappointment as Minister for Road Transport, that is, Mr. Ato Kwamena Selby would do himself and his readers a lot of good by reading my article titled "Mr. Bagbin is not a Wise Man" (see Ghanaweb.com archives).
*Kwame Okoampa-Ahoofe, Jr., Ph.D., is Associate Professor of English, Journalism and Creative Writing at Nassau Community College of the State University of New York, Garden City. He is the author of 13 books, including "Abe: Reflections on Love"(Atumpan Publications/lulu.com, 2008), his 10th and latest volume of poetry. E-mail: [email protected]