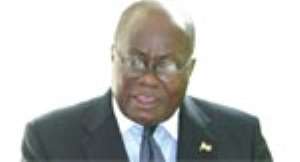 Thousands Of New Patriotic Party (NPP) faithful in the Yendi Constituency of the Northern Region on Monday climaxed the Easter festivities with a mammoth victory rally for the party's flag-bearer, Nana Addo Dankwa Akufo-Addo.
The rally, which was preceded by a fair, attracted opinion leaders, constituency executives and the Municipal Chief Executive (MCE) for the area, Alhaji Mohammed Habib Tijani.
Taking turns to address the crowd, the executives called for unity in the party, and appealed to supporters to nurse in them the spirit of forgiveness if they were wronged during the congress and forge ahead for the biggest victory of the party in December.
Alhaji Tijani noted that the rally was to formally dissolve the various factions that erupted before the congress in the constituency, to make the party a formidable force to reckon with in the area.
He reiterated the call on party members to see one another as brothers and consider Nana as the father of the party who would lead the party to victory in the December polls.
"Eschew negative divisions among you and solidly rally behind the chosen candidate," he advised.
The MCE reminded them that there could only be one winner in a contest and as true democrats, they needed to rally behind the winner.
It was for this reason that he urged the supporters of the former presidential aspirants to let what had emanated during the campaigns be a thing of the past, reminding them that the chosen candidate needed their support to win.
Recounting the benefits the municipality had received from the party, Mr. Tijani noted among other things the tarring of linking roads, construction of school blocks, various policies and programmes initiated by the government, the maintenance of peace in the region and above all the elevation of the district to a municipal status.
Meanwhile, three persons had so far picked forms to contest the primary for the Yendi seat.
They are the incumbent Member of Parliament (MP), Alhaji Alhassan Malik Yakubu; Samata Gifty Bukari, a teacher; and Majeed Yakubu, a staff of Ghana Telecom based in Accra.
The Constituency Secretary, Osaman K. Issahaku, who disclosed this to DAILY GUIDE, said two persons were still expected to pick forms.
He noted that the seat this time was going to be keenly contested as all the aspirants had good standings in the party and appeared to be very serious with their door-to-door campaigns.
Alhaji Malik, if he submits his nomination forms, would be seeking re-election for the fourth time after axing the NDC candidates in 1996, 2000 and 2004.
He succeeded Mr. Yusif Kambala of the NDC who through the boycott of the 1992 elections got the nod to represent the constituency.
Though a candidate had not been elected yet, Mr. Osman indicated that this year's election was going to be a one touch victory for whoever emerges winner at the primary, as the NDC had recycled a serial loser, Mr. Baba Iddrisu Bukari Tanzania.
From Stephen Zoure, Yendi