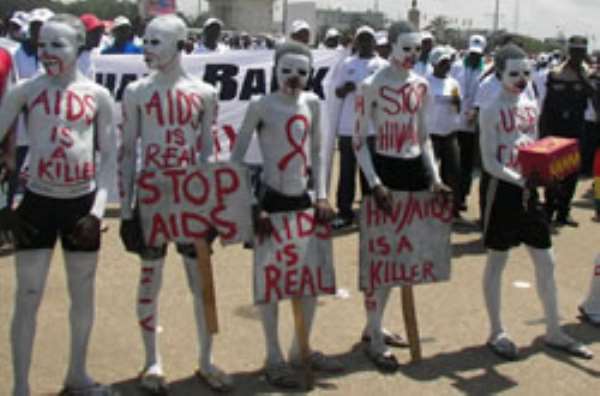 Professor Fred T. Sai, Presidential Advisor on HIV/AIDS, Reproductive Health and Population Issues on Monday called for the combination of basic sciences, clinical sciences with serious social science research for effective HIV/AIDS programme development.

He cited critical areas that needed urgent attention as reasons for high feminization of the disease, vulnerability of youth and the interaction of the virus and treatment with the internal nutritional, pathologic environments of the population and treatment.

"Perhaps, none of these should be more urgent than for us to have our social scientists get the true facts about stigmatization and discrimination".

Prof. Sai, who made the call at the opening of a three-day National HIV/AIDS Research Conference in Accra said without research, "we are unable to continue to develop scientific and evidence based preventive methodologies and safe and user friendly treatments".

The conference, which is the second to be held is under the theme; " Sustaining the Comprehensive National Response to HIV" is aimed at providing opportunity for national and international researchers to share information and discuss implications of research results for further research, policy and programme.

Organized by the Ghana AIDS Commission, over 400 participants both and international researchers, policy makers and implementers would also discuss national response to HIV and AIDS and initiate a process of developing research priority.

The conference, would be looking at four main tracks in the areas of social sciences, epidemiology and basic science, clinical practice and interventions and best practices would have seasons national and international experts with up-to-date knowledge in their fields of endeavour from Ghana, South Africa, Canada, United States and Switzerland.

Professor Sai noted that progress had been made considering the landscape of HIV, adding, "Research has been at the forefront of the epidemic since its onset and is paramount to our understanding of the they determinants of the HIV and AIDS epidemic".

He cautioned Ghanaians not to be complacent with the recent decline in the national HIV prevalence from 2.22 percent in 2006 to 1.9 percent in 2008 and urged stakeholders to intensify their efforts in the area of behavioural change to reduce it further.

"Whether rate of infection if HIV will remain low indefinitely or not will largely depend on our knowledge of factors that influence the spread of the epidemic and how this knowledge can be translated to more effective policies and evidence-based interventions".

He called for the need to deepen the understanding of basic behavioural and social science studies to clearly identify risk factors and vulnerable populations.

Prof. Sai commended all development partners for their support to the national response and insisting on promoting relevant research and called on corporate, religious and other civil society groups to also help in research.

He also commended the media for its increased reportage on HIV/AIDS and expressed the hope the conference would open up more dialogue with researchers and enable them to make proposals on ways to work closely with researchers.

Professor Sakyi Awuku Amoa, Director General of the Ghana AIDS Commission said recommendations made at the first conference in 2004 have been implemented in a way that have influenced national response which had begun to show positive results.

He said the 2007 HIV sentinel survey showed a decline in the national prevalence rate from 2.22 per cent in 2006 to 1.9 in 2007.

He said the decline in the prevalence rate indicated that the epidemic was stabilizing in Ghana although it was most pronounced among active sexual and social behaviours such as the youth.

Prof Amoa said in spite of the low prevalence rate compared to other countries in sub-Saharan Africa, Ghana had not relented in efforts to employ effective measures in managing the epidemic to prevent further spread.

The Director General said effective and well coordinated research was key to harness efforts aimed at educating the populace on factors that contribute to the spread of HIV/AIDS and this was why the Commission was collaborating with stakeholders to hold such an importance conference.

He expressed optimism that in the course of the conference, gaps, critical issues and challenges of HIV/AIDS research in Ghana that needed to be addressed would be highlighted.

Mr Daouda Toure, United Nations Coordinator, expressed the hope that the conference would review collectively, national efforts and set agenda for the future by sharing scientific evidence, lesson learnt and best practices with a view of devising ways of sustaining a comprehensive national response.

He pledged the continuous technical and financial support of development partners to work in sustaining a comprehensive national response.
Source: GNA