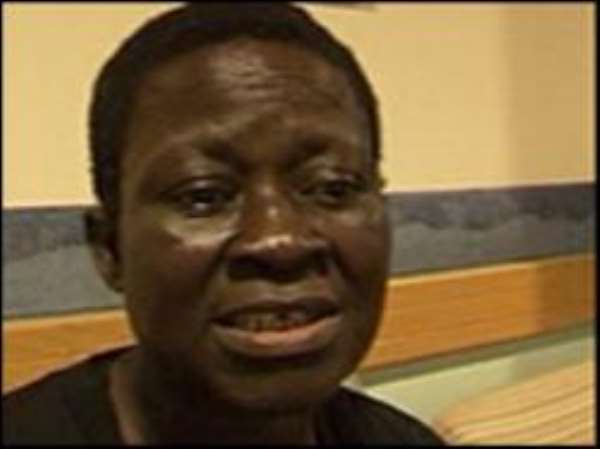 WALES on Sunday has asked Prime Minister Gordon Brown to personally intervene in the case of Ghanaian cancer victim Ama Sumani.
The terminally ill widow was taken from her hospital bed in Cardiff on Wednesday and flown to an uncertain fate in her home country by Borders and Immigration officials.
Officials at Number 10 refused to involve the PM when we contacted them by phone, saying: "This is a matter for the Home Office."
But we have followed up our initial call by sending an e-mail direct to the Prime Minister asking him to intervene on her behalf.
Criticism of UK immigration authorities was raging across the world yesterday over the treatment of 39-year-old Ama, who had been receiving vital kidney dialysis three times a week for the past year at the University Hospital of Wales in Cardiff.
And last night senior members of the Catholic church added their voice to the protest.
Canon Robert Reardon, of the Cardiff Arch Diocese, said: "This is a very disturbing story. There's been an absence of compassion, an absence of treating a person with dignity.
"I know that Ms Sumani had overstayed her visa – but given the severity of her illness – and the stage of treatment she was at, what has happened to her in the past few days is totally lacking in compassion."
Frankie Asare-Domkoh, president of the Ghana Union of Wales, said: "It's really unbelieveable that a citizen of the Commonwealth has been dragged from her hospital bed and treated in this way.
"What has happened to this country? Where are its Christian values?"
Cardiff University PhD student Mr Asare-Domkoh, 37, told Wales on Sunday that he had first written to the Home Office in April 2006 about Ama and her plight. To date, they have not even replied.
Liberal Democrat MP Evan Harris, co-chair of the All-Party Parliamentary Kidney Group, said: "I am appalled by the callous conduct of the Home Office. This woman – who is terminally ill anyway – needs regular dialysis to stay alive.
"If the Home Office is willing to pay £3,000 for treatment plus thousands more pounds for her removal, they may as well have paid for her treatment here at least until they had confirmed that she would get treatment in Ghana."
Dr Harris, MP for Oxford West and Abingdon, continued: "This shows the Government at its most amoral, no doubt arguing that if they don't act tough then other people will deliberately develop fatal kidney failure in order to evade immigration control."
Now Ms Sumani's friend and supporter Janet Simmons is hoping that Cardiff's wealthy church authorities will offer financial aid to ease devout Catholic Ama's suffering and provide some security for her two children.
"We want to raise as much money as we can to help Ama's children in particular," said Mrs Simmons, who runs the Xquisite Africa shop in City Road, Cardiff.
And last night Canon Reardon offered hope that something might be arranged.
"We are very sympathetic to Ama's plight," said Canon Reardon.
"But we will want to know exactly what we are being asked for – and to make sure that all the right systems are in place for getting aid out to Ghana before we can make any firm commitment to financial help for Ama."
Ms Sumani attended hospital in Ghana's capital city, Accra, earlier this week but was asked for the equivalent of £3,060 to pay for dialysis for the next three months.
The mother-of-two, who had come to the UK to study accountancy, was diagnosed with cancer a year ago.
She suffers from malignant myeloma but, as a foreign national, is not entitled to a bone marrow transplant.
"Only a miracle will save her now – but we have faith and sometimes miracles do happen," said Janet.
Kidney dialysis facilities are available in just two hospitals in Ghana.
But widow Ama, whose home is hundreds of miles from her nearest dialysis centre, says she cannot afford to pay the weekly $2,100 US dollars medical bill such treatment would run up – even if she could get there.
If Ama does not receive regular dialysis she could be dead within weeks, according to her friends.
That would leave her seven-year-old son, Sameb, and daughter, Mary, 15, orphans.
"I am realistic," said Ms Simmons. "The care that Ama received at the University Hospital Wales was excellent.
"Then, we saw Great Britain at its best.
"I know there have to be rules. But also I believe there has to be flexibility, in accordance with the circumstances of individual patients, like Ama. But Ama is one hell of a woman.
"She has accepted her fate with dignity and through her Catholic faith is still hopeful that a miracle will happen."
But Mrs Simmons, who first established a support network for Wales' Ghanaian community using her shop as a base in 2002, said the main concern was for Ama's children.
"If Ama falls sick then her daughter Mary will have no option but to leave school to care for her dying mother," she said.
"And the boy will not be able to continue his education at all without money to back him. We are going to do our very best to secure their futures."
Mrs Simmons, who moved to the UK from Ghana in 1981, said she had known Ama for four years.
"Ama had originally moved to the UK to study accountancy in London," she said. "She was told that her English was not good enough for her to continue on the course. She refused to be defeated and worked as a cleaner while trying to improve her English at night school."
In 2006, Ama faced her first big blow when her husband, who had remained in Ghana to look after the couple's two children, suddenly died.
"Ama returned to Ghana to arrange for her children to be cared for by members of her Catholic Church in Koforidua, before coming back to her rented room in Grangetown to continue her studies."
But after collapsing at home, Ama was rushed to UHW in Cardiff, where she was diagnosed with malignant myeloma, which has damaged her kidneys.
"We Ghanaians pride ourselves on being citizens of the Commonwealth," said Mr Asare-Domkoh, who lives in Cardiff with his wife and five children. "We will continue to protest and to write to the authorities about Ama until the situation changes for the better."