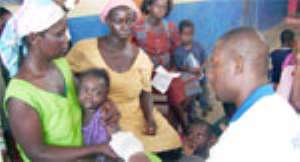 IN A bid to help curb the prevalence of Hepatitis B in the country, Foundation for Health Aid Ghana (FHAG), last Saturday, organised a free screening exercise on the disease for occupants of the Bawjiase Orphanage.
A 30-member medical team including five doctors and eight nurses screened 60 out of the 137 children for Hepatitis B virus.
Workers and caretakers of the Home were not left out of the exercise as they also underwent routine urine test, weight check and blood grouping test to identify sickle cell patients as well as check their health status.
Those who were found not to be seriously sick, were given treatment and drugs while those with complicated conditions were referred to hospital for further treatment.
Besides the free health screening, the team presented a number of assorted items, worth several millions of old Ghana cedis to the Home.
They included bags of rice, drinks and tins of Nido.
Dr. Benjamin Ayensah, director of FHAG, said the team was unable to cover all the children because screening for Hepatitis B was generally expensive.
He noted that symptoms of the disease do not usually show as in HIV and AIDS cases, and that one needed to go for a special test to find out one's status.
He stressed that if a patient had the disease, a delayed check up could eventually result in Hetoma cancer which would then be too late to treat.
However, he said, if one did the test and was found to be negative, one could be given a ten year vaccination against the disease.
He noted that the rate at which the disease was spreading was higher than that of HIV and AIDS and attributed the development to people's ignorance about the disease.
Explaining the mode of its infection, Dr. Ayensah said one could catch Hepatitis B through blood contacts, saliva-infected fluid through kissing, and sexual intercourse, among others.
He used the occasion to appeal to all and sundry to go for the test to know their status and protect themselves against the disease.
Those with the virus, he advised, must also go for the 3-shots vaccination.
Dr. Ayensah said FHAG is predominantly made up of health professionals, guided by the need to serve humanity.
According to him, the group seeks to help curb the prevalence of asymptomatic diseases such as hepatoma, breast cancer, cervical cancer, HIV and AIDS while holding discussions on global issues that relate to health.
This, he explained, is done by organising frequent medical outreach programmes in deprived communities.
Dr. Ayensah disclosed that the organisation intends to support healthcare structures in Ghana and Africa and had therefore embarked on a number of projects including the construction of medical centres at selected orphanages, refugee camps and deprived communities such as the Bawjiase orphanage and Otsenkorang, a village in the Central region of Ghana.
FHAG, he disclosed, further seeks to create intense awareness on the increasing rate of the HIV and AIDS pandemic and the dangers associated with chronic Hepatitis B infection among the Ghanaian populace.
"We also believe that massive education on these diseases in the country, especially in basic schools and remote areas, accompanied with screening, is one sure way of helping to curb their spread," Dr. Ayensah noted.
By Mary Anane