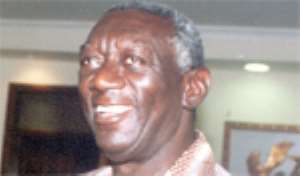 LIBYAN PRESIDENT, Omar Muammar Al Gaddafi, has sent a goodwill message to President Agyekum Kufuor, congratulating him for emerging unscathed during the accident that occurred on Wednesday, November 14, 2007.
The President miraculously escaped death on that day, at about 11am when a Mercedes Benz saloon car 500SE, driven by a businessman, Thomas Osei, rammed into his vehicle on the Airport-37 road while he was on his way to his office at the Castle, Osu.
Since the accident, many well-wishers have thronged the Castle at Osu to sympathise with the President.
To deliver the Libyan President's message at the Castle yesterday was a special emissary, Dr Ali A. Treki, Minister for African Union Affairs of Libya.
Dr Treki said the Libyan President shared the joy of President Kufuor in escaping the near tragic car accident.
It would be recalled that the armour-plated Mercedes Benz car of President Kufuor, which was rammed into, was a gift from the Libyan leader.
Though the President escaped unhurt, his vehicle, which somersaulted several times, was damaged.
In another development, President Kufuor has left the country for Kampala, Uganda, to participate in this year's Commonwealth Heads of Government meeting, slated for November 23 to 25, 2007.
The meeting is themed: "Transforming Commonwealth societies to achieve political, economic and human development" and is expected to be opened by Queen Elizabeth II, today.
A statement signed by Andrew Awuni, presidential spokesman, said the President was accompanied by the First Lady, Mrs. Theresa Kufuor and some senior government officials.
At the top of the agenda for the Kampala Summit will be the promotion of common political values like democracy, human rights, good governance and separation of powers as well as global economic issues, and climate change.
The summit would, among other things, appoint a new Secretary-General to take over from Rt. Hon. Don McKinnon, the incumbent.
Two contenders, who have expressed interest in the position, are the Indian High Commissioner to the United Kingdom, Mr. Kamalesh Sharma and Maltese Foreign Minister, Dr. Michael Frendo. The incoming Secretary-General shall appoint a deputy upon expiry of Mrs. Florence Mugasha's tenure in April next year.

CHOGM is a summit meeting of heads of government from all Commonwealth nations. Every two years, the meeting is held in a different member state, and is chaired by that nation's Prime Minister or President. Most meetings include an appearance by Queen Elizabeth II, who is the Head of the Commonwealth.
By Emelia Ennin