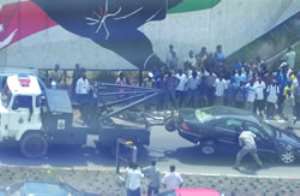 The Criminal Investigations Department (CID) of the Ghana Police says it is investigating the car accident involving President Kufuor's convoy on Wednesday morning, November 14, 2007.
The investigation is to ascertain whether the accident was an assassination attempt on the president's life.
According to the CID, preliminary investigations carried out suggest that the driver of the car which rammed into the president's car did it deliberately.
The driver who has been identified as 51-year-old Thomas Osei, the Managing Director of Pure Constructions Ltd., is believed to have sped head-on to crash into the president's car, without due regard to the sound of sirens from the presidential convoy.
At the offices of the Bureau of National Investigations (BNI), Mr. Osei was found to have been drunk with alcohol far above permissible levels. When he was tested, he registered 0.4 points.
Moreover, Mr. Osei is known to have a record of drunk driving and he has several cases pending at the Achimota Police Station.