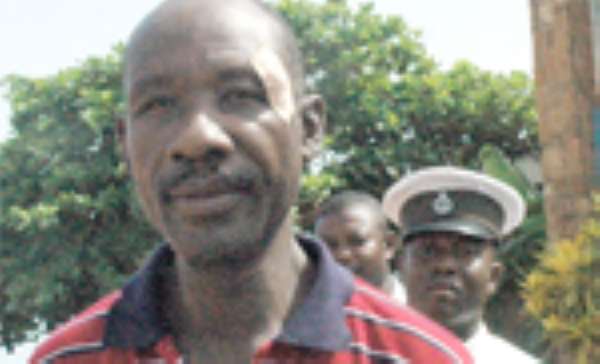 A WEEK after President John Agyekum Kufuor's miraculous escape from a near-fatal motor accident at the Silver Towers traffic lights near Opeibea House in Accra, DAILY GUIDE went underground to find out more about the man who rammed his Mercedes Benz into the Number One Citizen's car.
Interestingly, it was revealed that Thomas Kofi Osei, 51, is a Nima boy, who is fondly called 'Babs' by his associates.
According to a source who spoke to the paper on anonymity, Osei, who has other names and holds multiple passports, lived in the house of a popular millionaire, the late Alhaji Kazaure, at Nima in Accra before migrating to Egypt in 1974.
He said Osei was married to a woman called Sallah, with whom he lived in Japan, and who was a relative of Alhaji Kazaure.
From Egypt, Osei relocated to the United States where he made substantial amount of money before taking up residence in Japan.
He was said to have joined the 'Friends of Kufuor' campaign group of which he was a prominent figure.
While in the US he had a son, now believed to be in his 20s, with an African-American woman.
The source said Osei traded in sculptures and other art and craft items before his stint in Egypt.
A man associated with high profile personalities in both politics and business, Thomas Osei, is the owner of a $2m stone quarry at Fete in the Central Region, DAILY GUIDE learnt.
The source disclosed that Osei loves Gulder beer, which remains his favourite alcoholic beverage.
Osei, a Fante, was born at Cape Coast in the Central Region, before moving to Nima in Accra where he was adopted by the late Alhaji Kazaure, who encouraged him to convert to Islam.
He owns a mansion at Christian Village, near Achimota in Accra, besides another one at Dome also in the nation's capital, the source said.
With many friends in the large Zongo community in the nation's capital, Osei is a known contributor to New Patriotic Party (NPP) activities in Nima and other Zongo communities.
During last year's Eid-Il-Adha festival of Muslims, he slaughtered three cows, the source informed DAILY GUIDE.
Last week, Thomas Osei was arrested and charged with negligently causing harm and driving under the influence of alcohol after ramming his Mercedes Benz saloon car into the President Kufuor armoured Mercedes Benz when the latter was on his way to the Osu, Castle.
The President's car spun, hitting an embankment. It then somersaulted thrice and grazed a VW Golf car, before landing on its roof.
Miraculously, the First Citizen escaped unhurt.
Osei was said to be on his way to the Collins Gate Hotel at Nima to meet with one Solomon, when the accident occurred. At the time of the accident, he was said to be playing tapes of the Holy Quran.
"Babs (Osei) said he was trying to follow the President's convoy in his haste to come to the aid of a friend at Nima," the source said.
When DAILY GUIDE contacted an opinion leader at Nima, he had this to say: "We all prayed for the life of the President, and thankfully he is safe.
"But it looks as if the whole Ghana is subjecting Osei to a public trial."
He said the man was not the demon people thought he was, stressing, "I know for a fact that he is taking care of more than 10 students at the University of Ghana alone, and these kids are not his relatives."
A Exclusive