Don't Try Kufuor 'Killer' In Papers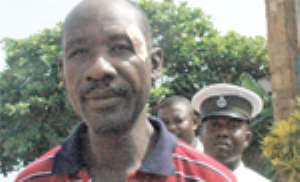 THE GHANA Journalists Association (GJA) has strongly urged all media houses and journalists in particular, to refrain from engaging in the trial of Thomas Osei, the driver of the vehicle that crashed into the convoy of President John Agyekum Kufuor last Wednesday.
The President escaped unhurt when the 51-year old Osei's Mercedes Benz 500SE rammed into his official car at the Silver Star Tower/Opeibea traffic lights intersection on the 37-Airport road.
Thomas Osei has since been arraigned before the Accra Motor Court where his plea was not taken. He is in police custody to re-appear on November 30.
In a statement issued yesterday by the GJA, the association noted that fair play has become even more imperative because the matter is before court.
"In order that the case is not prejudiced, there is the need to give both the court and the police the chance to do their work without interference or distractions that could lead to an unfair trial," the statement advised.
The release, signed by General Secretary, Bright Kwame Blewu, said, "those sections of the media engaged in the trial of Mr. Osei are reminded that their behaviour is in breach of the ethics of the journalism profession. They could soon find themselves guilty of contempt of court."
By James S. A. Kwashie