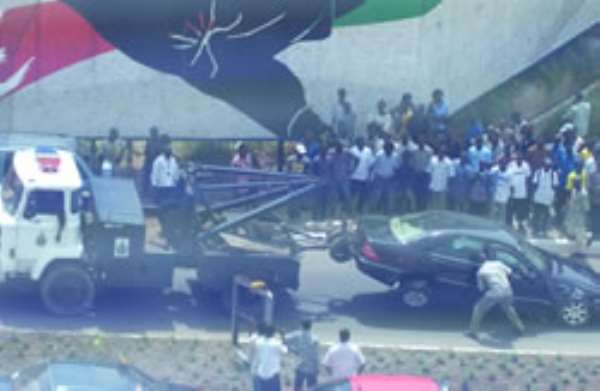 The Legal Resources Centre says it is ready to offer legal aid to the driver at the centre of President Kufuor's near fatal accident on Wednesday.
The President escaped unhurt but his driver and the suspect were treated at the 37 Military Hospital.
The 51-year-old Thomas Osei, who drove his Benz saloon car straight into the President's while the latter was in a convoy to the Castle, Osu, on the Airport – 37 Hospital road, on Friday appeared before an Accra Motor Court without legal representation.
It is not clear why Osei, who is provisionally charged with four counts of dangerous driving, driving under the influence of alcohol, negligently causing harm and failing to give way to the President's convoy, appeared in court without a counsel, however suspects who are processed before the Motor Court usually are without legal representation.
The Executive Director of the Legal Resources Centre, Edward Amuzu however described the situation as unfortunate, and told Joy News that no matter Osei's offence, he deserves to be represented by a lawyer.
Mr. Osei is currently on remand to reappear on the November 30.