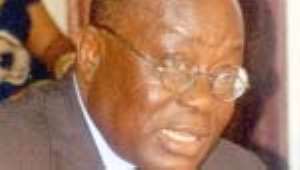 STUDENTS OF the Wa campus of University for Development Studies (UDS) subjected Nana Addo Dankwa Akufo-Addo to a victorious 'ponding' to remind him of his old school days before ushering him into the Great Hall where he was due to deliver a lecture.
Immediately the aspirant and his entourage set foot near the hall, after defying a heavy downpour, a large number of students started sprinkling water on him and chanting victory songs to the amazement of the regional party executives.
It took close to half an hour for the organizers to calm down the excited and jubilant students as the surprised aspirant responded to their cheers.
After finally taking the stage, Nana Akufo-Addo appealed to them to get involved in the political process to make the December 22 congress a success.
The Akyem Abuakwa MP said the outcome of the congress was going to affect all of them because it was a struggle for the party to build a new Ghana, and promised a successful African state if he was given the mandate.
He noted that the NPP government had laid a solid foundation for the future of the country. This notwithstanding, he expressed his desire to grow the economy to enable it to absorb young graduates from the tertiary institutions dotted around the country.

The former foreign minister said that the time had come for the full realization of the self- reliance concept, and that it could be achieved if value was added to raw materials produced in the country.
The NPP's next focus, according to him, was structural transformation through the creation of jobs. Trade ties within the continent, he noted, would be fostered and called on all young graduates to get involved in, and be agents of, transformation in their respective communities.
From Stephen Zoure, Wa