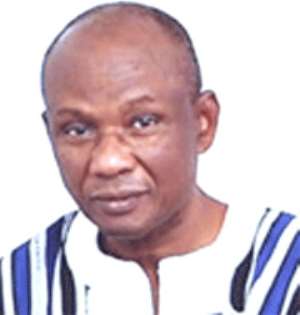 The Chairman of the Convention People's Party (CPP), Dr Edmund N. Delle, has stressed the need for Ghana and the African Union (AU) to immortalise the name of the late Madam Helena Ritz Fathia Nkrumah because "she served as a lamb sacrificed on the altar of African union".
He said Madam Fathia, as she was popularly called, was a symbol of African unity, particularly between Arabs and black Africans, by defying Arab tradition of keeping to their own to marry Ghana's first President, Dr Kwame Nkrumah, and lending her unflinching support to the cause of African unity.
"In that respect, Madam Fathia made sacrifices to realise that dream. She was a lamb for the salvation of African unity," Dr Delle told the Daily Graphic, following the death of the foremost First Lady of Ghana at the Badrawy Hospital in Cairo, Egypt, last week.
The 75-year-old mother of three had been battling stroke for about a year now.
Dr Delle said although he was aware that Madam Fathia had been sick for sometime, her death came as a big shock to him personally and the Nkrumaist family as a whole.
He expressed the gratitude of the CPP and the Nkrumaist family to President J. A. Kufuor, who is also the AU Chairman, for finding time to visit Madam Fathia in hospital when he visited Egypt recently.
Dr Delle said by virtue of being the foremost First Lady of Ghana, Madam Fathia was the mother of the nation, adding that as she joined her late husband, who was acknowledged as the father of the nation, in the next world, "I can say in deep sadness now that we are an orphaned nation, without father and mother".
He said it was not by coincidence that Madam Fathia died during Ghana's Golden Jubilee celebrations and at a time the AU was holding a meeting to discuss ways of cementing unity in Africa. She, therefore, deserved a place in the everlasting memory of Africa.
Dr Delle said the support Madam Fathia lent to Dr Nkrumah's campaign for African unity underlined the fact that no nation could develop without the contribution of women, and cited the election of Madam Ellen Sirleaf-Johnson to the high office of President of Liberia and Mrs Justice Georgina Wood as the first female Chief Justice of Ghana, as some of the positive roles that African women were playing.
The CPP Chairman described Madam Fathia as a woman of substance who, in spite of her high status, eschewed arrogance, demonstrated a great sense of humility and always remained in the background to support her husband.
That character, he said, was worthy of emulation by future First Ladies of the country.
After the 1966 coup, which overthrew Dr Nkrumah, Madam Fathia was neglected by the nation and she left Ghana to live a sheltered life in Maadi, Egypt, never to set eyes on her husband again until his burial at Nkroful on July 7, 1972, having passed away in Conakry, Guinea, where he lived in self-exile.
Dr Delle said although she nurtured an emotional pain and trauma for all that time, she did not let Ghana and the cause of African unity down.
"We must bow down our heads in shame because, as a nation, we should have rehabilitated her and the children," he said, but noted that it was not too late for the nation to do what it should have done while she was alive.
With regard to the CPP, Dr Delle said the death of Madam Fathia should be a moment of reconciliation of the party and was happy that such spirit was demonstrated last Friday when some members of the party met at the Kwame Nkrumah Mausoleum in Accra in her memory.
He stressed the need for the CPP to continue to lead the struggle for a united and prosperous Africa bonded by the interest of a united voice, economy, army and a continent which shall rely on itself for the benefit of its people.
Dr Delle said it was important to change the image of Africa from a continent of starving people to a continent of smiling people, and urged Africans to always be guided by the immortal words of Dr Nkrumah, "After all, the black man is capable of managing his own affairs".
Madam Fathia was born and brought up in Zeitoun, being the third daughter of a civil servant and a iron-willed woman who raised her children single-handedly after her husband's untimely death.
After completing her secondary education, Madam Fathia worked as a teacher in her school, Notre Dame des Apostres but she did not find teaching very appealing and so she took a job in a bank.
On December 31, 1957, she got married to Dr Kwame Nkrumah. They had met in Egypt when Dr Nkrumah, then the Prime Minister of Ghana, paid a visit to President Gamel Abdel Nasser in Egypt.
They were blessed with three children — Gamel, Samia and Sekou Nkrumah.
Story by Kofi Yeboah