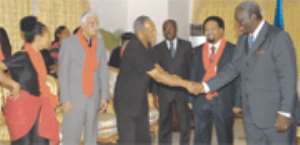 Today, the whole nation mourns with the family of Madam Fathia Nkrumah, the first First Lady of this country.
The unassuming woman who stood by her husband, Osagyefo Dr Kwame Nkrumah, after the country's independence made the right decision that she would like to be buried beside her husband, whom he affectionately called "Koko".
Fathia might not have enjoyed a happy family life after the death of her dear husband, whose ambition was to see a united Africa.
Indeed, it would not be far-fetched to suggest that it was the spirit of continental unity which informed Dr Nkrumah's decision to marry from Egypt, with the support of his friend and colleague, Abdul Gamel Nassar.
Today, the African Union, which is a metamorphosis of the Organisation of African Unity (OAU) has fallen for the ideals of Nkrumah, who certainly lived ahead of his time.
It would have been lovely for Madam Fathia to be around in Accra to listen to the Grand Debate which is scheduled to take place here next month. However, man, they say, proposes but God disposes and so Madam Fathia could not live to witness the debate.
A critical issue about Madam Fathia is that her husband's administration saw the first military take over in the country and perhaps after that some mistakes were committed in caring for her.
It was unfortunate that even when it dawned on subsequent leaders that the anomaly should be rectified and that she should be rehabilitated, a house allocated to her was later taken over.
Mistakes are human; what is important is the realisation that a mistake was committed, for which reason there must be the desire to rectify that anomaly.
For us a country, it is important that we learn how to treat our former heads of state and their wives well.
We know what happened to President Hilla Limann, a story which is unpleasant to recount.
As the nation shares the sorrow of Fathia's family over her death, we have a big lesson to learn.
However, we take consolation from the fact that President Agyekum Kufuor took time off his schedule, while he was in Egypt, to see Madam Fathia at the dusk of her life.
We do not know what they discussed but we can fairly assume that the President might have given her some words of encouragement. It was better late than never. At least, she may have died with the recognition that there are some in Ghana who care about her.
It is important that as a people we see her death as a loss to the nation and not a particular group of people.
It is understandable that the Convention People's Party (CPP) would like to own her body as its. However, the truth of the matter is that Madam Fathia was a former First Lady of Ghana, not the CPP.
At this solemn moment, we console the family, while praying that we do not repeat the mistakes of the past.
Fare thee well, Fathia.