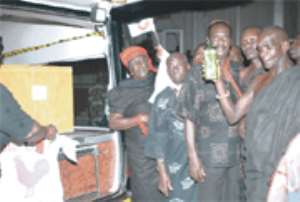 The body of Madam Fathia Nkrumah, wife of Ghana's first President, Osagyefo Dr Kwame Nkrumah, was last Saturday night flown into the country from Egypt for a fitting burial beside her late husband at the Kwame Nkrumah Mausoleum in Accra.
On the same flight were Gamel and Samia Nkrumah, children of the deceased, Ghana's Ambassador to Egypt, Mr Akilaja Olufemi Akiwumi, and a brother of the deceased.
The plane touched down at the Kotoka International Airport at exactly 11.45 p.m. and various delegations from the government, the Convention People's Party (CPP), Prof. Francis Nkrumah and Sekou Nkrumah, both children of the late former President, and the Egyptian Ambassador to Ghana, Mr Seif Nossier, were there to receive the body and the delegation from Egypt.
The casket which was secured in a wooden box, was transferred from the plane into a hearse of the Gillmar and Abbey Funeral Services. Accompanied by other state vehicles, the hearse made its way to the 37 Military Hospital where the body was kept in a morgue for further preservation before the burial on Tuesday after a State burial service at the forecourt of the State House.
A Deputy Minister of Foreign Affairs, Regional Co-operation and NEPAD, Ms Shirley Ayokor Botchwey, led the government delegation which received the body, while the National Chairman of the CPP, Dr Edmund Delle, headed the party's delegation.
It was all wailing, singing of "There is victory for us" and waving of miniature CPP flags by the few CPP members who had gathered at the airport to welcome the delegation and the body.
Gamel and Samia Nkrumah exchanged pleasantries with their brothers, government officials, CPP members and the crowd which had gathered there to welcome them.
Nana Adiwibra Kpanyili, a member of Kwame Nkrumah's family from Nkroful in the Western Region, performed libation for the safe arrival of both the body and the delegation and welcomed them to Ghana.
Story by Donald Ato Dapatem