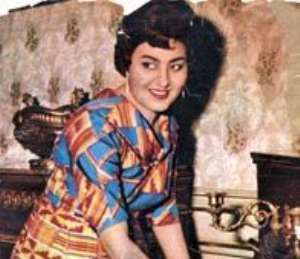 Representatives of various Governments in Ghana would sign a book of condolence for Madam Fathia Nkrumah, wife of Dr Kwame Nkrumah, first President of Ghana on Monday June 11, 2007.

Other individuals and institutions to sign the book were; Political Party Executives, Representatives of the African Union, ECOWAS, International and non-governmental institutions, Dr Edmund N. Delle CPP Chairman and Leader told the Ghana News Agency in an interview on Saturday.

The CPP on Friday June 8th 2007, in accordance with tradition opened a book of condolence for Madam Fathia from 0900 hours to 1800 hours, till Monday, June 11, 2007.

Meanwhile the State Protocol in a statement signed by Ms Rosemary Pabbi for the Director of State Protocol on Friday announced the official programme for the funeral service.

The statement said the mortal remains of the late former First Lady would be conveyed from the 37 Military Hospital to the forecourt of the State House at 0630 hours on Tuesday June 12.

Between 0700 hours and 0900 hours Government Officials, Political Party representatives, Ambassadors and High Commissioners and the general public would file past the body to be followed immediately by the funeral service.

Burial at the Kwame Nkrumah Memorial Park would follow immediately after the memorial service during which, the family, CPP officials, Government and other designated officials would read tributes in honour of Madam Fathia.
Source: GNA