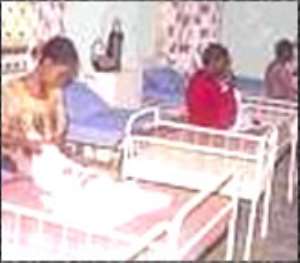 The National Health Insurance Scheme which started on a low key in the country especially in the rural areas has now taken a full flight in some parts of the country.
The scheme aimed at providing adequate, efficient and non frustrating health delivery is gradually being adopted by the majority populas in the country.
The Akatsi DCE, Mr Anthony Abledu commenting on the issue described the scheme as a train that has taken off and people join it at each stop it gets to.
In an interview, he said the Akatsi district is fortunately picking up , with people voluntarily going to register for the scheme.

'The initial skeptism is gone,currently, there are 30 000 paid up members of the scheme'.
He, however,stated that the increase has affected the health service delivery.
'The increase in paid up members has also increased the number of people who need health attention, but our health facilities are poor'.
The district has no district hospital but a health centre which is overflowing with patients as well as being understaffed.
The health centre recently had a new doctor posted there and since the facilities are poor, its is constraining his performance as more people opt for the centre than treking many miles before getting to the nearest district hospital.
The roads leading to the health centre are very poor, infrastructure very inadequate.
Mr Abledu appealed to Ghanaians who support other hospitals to also give Akatsi a little hand in upgrading their health facilities, infrastructure and roads.
He urged government to also give such districts the needed attention to ensure the NHIS works well.