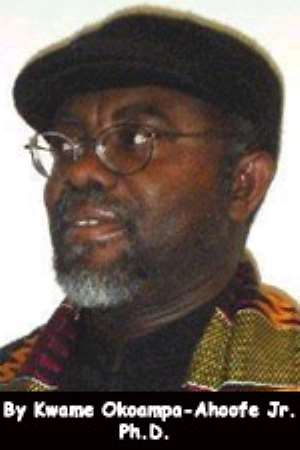 The decision by the Nigerian Supreme Court to return Vice-President Atiku Abubakar to the ballot is one that ought to be applauded by all democratically-minded and democracy-loving people around the globe, particularly those of us from the West-African sub-region. For it sends a loud and clear message that no individual, regardless of sociopolitical status, is above the law.
The foregoing, however, is not to suggest, or even imply, that we unreservedly support the presidential candidacy of the substantive, albeit estranged, Nigerian veep. It is our firm contention, however, that until clinically proven guilty by a legitimately constituted court of law, the corruption charges against Alhaji Atiku Abubakar remains simply as such, allegations.
We also find it rather flagrant and repugnant, to speak much less of the outright criminal, that Mr. Olusegun Obasanjo would personally intervene or, literally, hijack the course of civil justice by causing the establishment of an executive investigative panel to probe the purported fraud allegations against his estranged right-hand man, knowing full-well that that he, a former military strongman, had scores to settle with his veep, over the latter's constitutional protestation over Mr. Obasanjo's oblique attempt to seeking a glaringly unconstitutional third presidential term.
Indeed, what is significant about the Nigerian Supreme Court ruling on the Abubakar case, is the fact that it almost automatically nullifies the just-ended local, gubernatorial and regional elections, during which exercise Mr. Abubakar was extra-judicially precluded from participating. And aptly, as the Nigerian Supreme Court emphatically maintained, the country's Electoral Commission went flagrantly overboard in presuming to do the bidding of lame-duck President Obasanjo rather than the peremptory dictate of the Third Republican Constitution.
It is also quite curious for one who served as the devoted lieutenant of the late General Murtala Muhammad, and one who went on to rule as a military dictator for some three years, after Gen. Muhammad's assassination in a counter-coup attempt, to be calling his two-time constitutionally elected running-mate out on the staple Nigerian political question of fraud.
Perhaps Mr. Obasanjo ought to be asked to account for his remarkable material wealth before the latter sanctimoniously attempts to wreak political havoc and vengeance on his political nemesis. Of course, we recognize the fundamental fact that this is exclusively the judgment call of Nigerian citizens, both at home and abroad.
On the other hand, as a bona fide member of the Economic Community of West African States (ECOWAS), whose headquarters, interestingly, is located in the Nigerian capital of Abuja, the Government and people of Ghana have a vested interest in the destiny of a thriving democratic culture in the most populous and, perhaps, also the most economically significant West African country. For the unhealthy meddling with the salutary culture of democracy by the Obasanjo Administration, indubitably threatens the political stability of the entire West-African sub-region. It also unpardonably embarrasses all West Africans before the court of the civilized and democratic global community, just as much as it seriously undermines the current onward and steady push towards continental African unification. For, when all is said and done, which African national, besides Mr. Obasanjo himself, and perhaps also his kinsfolk and hangers-on, desires the sort of political travesty being crafted and impudently orchestrated by the Obasanjo Administration and the so-called People's Democratic Party?
And then also, one is germanely tempted to ask whether the former Nigerian strongman is trying to quixotically prepare his country for another catastrophic reprise of the Biafran War, in the hope of him being asked to broker a peace compact in anticipation for a Nobel Prize? A fat chance, of course!
Indeed, while ours is no clarion call for the summary exclusion of any individual or group of Nigerians from active engagement in the democratic process, nonetheless, the inordinate swamping of the political arena by legions of yesteryear's military strongmen cannot be a good augur for Nigerian democracy. For career soldiers are fundamentally not temperamentally oriented towards a meaningful praxis of democratic governance. Both Ghanaians and Nigerians have more than adequate experience on this score. Neither does the Obasanjo gimmick in any way endear other democratic West African countries into forging a regional political partnership with the proverbial Giant-of-Africa.
Then also, perhaps, some levelheaded Nigerian statesman – as clearly distinguished from politician – ought to apprise the Obasanjo Administration of the glaring and incontrovertible fact that attempting to deviously and cynically stalemate the country's Supreme Court's ruling on the Abubakar affair, as it were, is highly unlikely to stabilize an already volatile political climate. For as the Associated Press reported: "Police, seeking to end sporadic violence, [has] banned all organized rallies ahead of Saturday's vote setting up Nigeria's first-ever civilian-to-civilian power transfer" (New York Times 4/17/07; emphasis added).
Needless to say, one does not quench "sporadic" bursts of fiery flares by pouring on gasoline; and Heaven knows too well that Nigeria has more than enough quantities of Black Gold to torch most of the so-called sub-Saharan Africa.
Not long ago, Professor Wole Soyinka grimly remarked that the blind and sexist enforcement of "Sharia" – or Islamic edict – on adultery by most of the Hausa states in the northern half of the country, did not endear the celebrated Nobel Literature Laureate into national kinship, or affinity, with the latter. Ironically, on the solemn question of the criminal attempt to aborting the fledgling democratic culture of Nigeria, the protagonist is one of Professor Soyinka's own "kinsmen."
*Kwame Okoampa-Ahoofe, Jr., Ph.D., teaches English and Journalism at Nassau Community College of the State University of New York, Garden City. He is the author of "Sounds of Sirens: Essays in African Politics and Culture" (iUniverse.com, 2004). E-mail: [email protected]