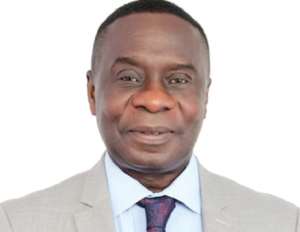 James Gyakye Quayson, the former Member of Parliament for Assin North Constituency, has expressed confidence in winning back his seat in the upcoming by-election scheduled for June 27.
In an interview with TV3's Komla Klutse on Wednesday, June 7, Gyakye Quayson said winning back the seat is non-negotiable.
He stated, "It will be a win-win situation. I am going to win. That's all I can tell you."
The interview follows the New Patriotic Party's selection of its candidate for the impending by-election.
Charles Opoku, who hails from the same town as Gyakye Quayson, emerged winner of the NPP primaries by defeating his sole contender on Wednesday.
Despite facing competition from someone from his hometown Assin Breku, Mr Gyakye Quayson remained unfazed.
He emphasized that politics is not determined by one's place of origin but rather by the ability to deliver and address the challenges faced by the people.
Mr Gyakye Quayson emphasized that his return to the race was not driven by "a politics of games," but rather by his commitment to represent the well-being of the people of Assin North.
"Politics is not about where you're coming from or your region. It is about what you can deliver to your people," he said.
Gyakye Quayson continued, "Politics is about confronting the challenges and finding solutions to them, and the people of this community already have faith in me."
Gyakye Quayson previously won the Assin North seat for the National Democratic Congress (NDC) in the 2020 general elections, defeating the incumbent Abena Durowaa Mensah.
However, he was subsequently deposed as MP after it was revealed that he held dual citizenship, which was in violation of the requirements to contest the elections.
Following a High Court ruling, the Supreme Court affirmed the decision to remove Mr Gyakye Quayson from Parliament, with instructions to expunge his name from all records.