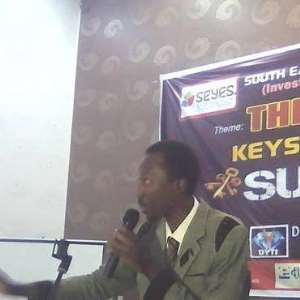 Rev Obinna Akukwe is insisting that he Nigerian Church is powerless. I make no apologies to that, and I prophetically insist that any candidate they endorse in 2023 presidential polls will fail. Presidential candidates who want to win should seek their cooperation NOT endorsement.
A church whose Fire Prayers cannot deliver the majority of Chibok Christian Girls from captivity is powerless.
In one of the piece I wrote on the abducted Chibok school girls in 2014 titled ' Boko Haram, Chibok Girls and Jihad of the Penis' I warned that the nation that looked the other way as 276 Chibok Christian Girls are being raped to death by terrorists, will bring a curse on the nation.
Then some church leaders were more interested in debating whether Buhari and Shettima were involved in the abduction than on how to arrest the abominable development and rescue innocent school girls.
Few years later child rape, abduction of women and filmed harvesting of women private organs by terrorists, bandits, secessionists and ritualists, have become the order of the day.
The Church is blind. It dances when it should be praying, and prays when it's too late.
Leah Sharibu , a Christian Girl from Dapchi, Yobe State was kidnapped at school alongside other students . She is still in Boko Haram detention camp, five years after. Her crime was that she refused to convert to Islam when her fellow abductees rescinded their Christian Faith to escape captivity and forced marriage.
Leah was sentenced to sex slavery, from which a boy has been produced.
The compromised church leaders cannot devote a Sunday Morning, Suspend Tithe Collection till next Tuesday, Wednesday or next Sunday, and ask all worshippers to protest and pressurize the Muslim led government of Buhari to seek the release of the little girl by every means.
They cannot abandon doctrinal differences to seek and shut down the nation until the little girl punished for her faith is released,
I wrote an article recently titled 'Breast Sucking Ritualistic, Occult Church Leaders cannot Stop Boko Haram, Banditry, Terrorism' and outlined all the spiritual compromises that made he Nigerian Church powerless with personal encounters.
The Church has authority over many things, including sicknesses, poverty, spirit husband, wife, deliverance and sundry matters, but on matters of national enthronement, the Nigerian churches have ceded it to Marine Spirits, Corrupt Ritualistic Politicians and Business Moguls who donate millions and billions for spiritual coverage.
Therefore, having partaken in corrupt national cake, have lost the Spiritual Authority to decide who governs Nigeria.
Rev Obinna Akukwe is boldly declaring that blood money on a holy pulpit have turned the holy pulpit to bloody pulpit and come February 2023, the results will show.
(Rev Obinna Akukwe, Cleric, Columnist, contact @obinnaakukwe )